Betterment vs. SoFi Invest— Overview
One of the biggest hurdles to investing is having enough money upfront.
Both Betterment and SoFi Automated Investing robo-advisors both boast affordable initial investments. Far from being basic robo-advisors, however, Betterment and SoFi Invest have something to offer novice and seasoned investors alike. This Betterment vs SoFi Invest review will focus on the SoFi Automated Investing division of the firm.
[toc]
Disclosure: Please note that this article may contain affiliate links which means that – at zero cost to you – I might earn a commission if you sign up or buy through the affiliate link.
What is Betterment?
Betterment is a goals-based advisor that has been around for more than a decade, making it one of the original robo-advisors. Over the years, Betterment has grown with its clients— they now offer fee-based financial planning packages to help with discrete financial planning questions. The goals-based investment manager provides diversified investment portfolios in line with your risk tolerance level. The varieties of portfolios include core, socially responsible options and crypto.
More affluent investors can sign up for Betterment Premium, for an added fee, with unlimited access to Certified Financial Planners.
The checking and high yield cash accounts (through program banks) enable clients to consolidate their financial lives within one platform.
Betterment is also one of the more affordable robo-advisors, with account management fees on the lower end of other robo-advisors in the same category.
What is SoFi Invest?
Social Finance, or SoFi for short, made a name for itself as a place for well-qualified borrowers to refinance their student loans. However, SoFi has long since moved beyond loan refinancing services. SoFi has exploded it's offerings to include money management, investments, and insurance.
The SoFi Invest category includes:
Automated Investing – The SoFi robo-advisor invests your money in diversified exchange traded funds, or ETFs and manages it for you.
Crypto Investing – Cryptocurrency trading platform.
Stock Bits – Free stock market investing, similar to Robinhood and M1 Finance.
Active Investing – This SoFi stock investing platform allows you to buy shares of stock or even partial shares and get started investing on your own, for free.
SoFi ETFs – SoFi offers a variety of specialized exchange traded funds including SoFi Weekly (WKLY) providing regular cash flow.
As a robo-advisor, SoFi Invest Automated Portfolios is quite competitive. In addition to offering fee-free investment management all cutomers have access to fee-free financial advisors, career coaches and member activities (in certain cities).
Betterment vs. SoFi Invest— Top Features
Features
Betterment
SoFi Invest
Overview
Goals-based digital investment manager with access to financial advisors, for additional fee, and cash management.
Free automated investment management robo-advisor platform with fee-free financial advisor access.
Minimum Investment Amount
Betterment Digital-no minimum, $10 to invest.
Betterment Premium-$100,000 minimum.
$1
Free Services
Free portfolio review
Free account management and access to financial professionals
Fee Structure

Digital-0.25% AUM for accounts worth $20K or more (or with $250/mo. auto deposit)




$4 per month AUM less than $20,000




Premium-0.40% AUM




Crypto-1% AUM




Cash-No Fee

No account management fees.
Top Features
Digital and hybrid investment management with financial advisors, for additional fee. Socially-responsible, income, smart beta and crypto portfolios. Tax loss harvesting. Cash management.
Investment management with live CFP financial advisors. Access to SoFi member benefits and career planning. Cash management.
Investment Funds
Low fee exchange traded funds from diverse asset classes.
Diversified low-fee exchange traded index funds-ETFs.
Stock bit - fractional shares of stock available through SoFi Active Investing.
Accounts Available
Single and joint taxable brokerage. Roth, traditional, rollover and SEP IRA. Trust.
Individual and joint taxable accounts. Roth, traditional and SEP IRAs.
Contact & Investing Advice
Phone support M-F. Email support 7 days per week. Financial advisor access available at various levels.
Phone support M-F. Email support 7 days per week. Financial advisor access for all clients.
Promotions
Free investment management promotion (subject to change)

Free investment management at SoFI Automated Investing
Betterment Top Features:
Goal based investment portfolios.
Cryptocurrency portfolios.
Tax-loss harvesting.
Smart-Beta and socially responsible portfolios.
Financial planning a la carte packages, for an additional fee.
Fee-free high yield cash and checking accounts (through partner banks).
SoFi Invest Top Features:
Active and passive investing strategies.
An opportunity to have multiple financial products within one company.
No account management fees.
Fee-free financial advisor access for all clients.
Betterment vs. SoFi Invest YouTube Video
To speed up the video, click on the "settings" gear at the bottom of the video. Choose "playback speed". Select your speed (I prefer 1.5).
Betterment vs. SoFi Invest— Who Benefits?
For those want to get started investing with robo-advisors but don't have a lot of money to invest from the start, either Betterment or SoFi Invest will be beneficial. With their rock-bottom investment requirements, both robo-advisors are accessible to anyone. Betterment requires $10 to begin investing and SoFi just one dollar.
SoFi Invest
Anyone who is looking for a free robo-advisor would benefit from SoFi Invest. While Betterment's low fees certainly make it one of the more affordable robo-advisors available, you just can't beat zero account management fees!
Investors who want free financial and career advice might choose SoFi Invest Automated Portfolios.
Betterment
Investors who are looking for a robo-advisor who has been around for awhile will appreciate Betterment. Launched in 2010, Betterment is one of the oldest and most well-established robos on the market.
Investors seeking cash management (through program banks), socially responsible and smart beta portfolios might match up with Betterment.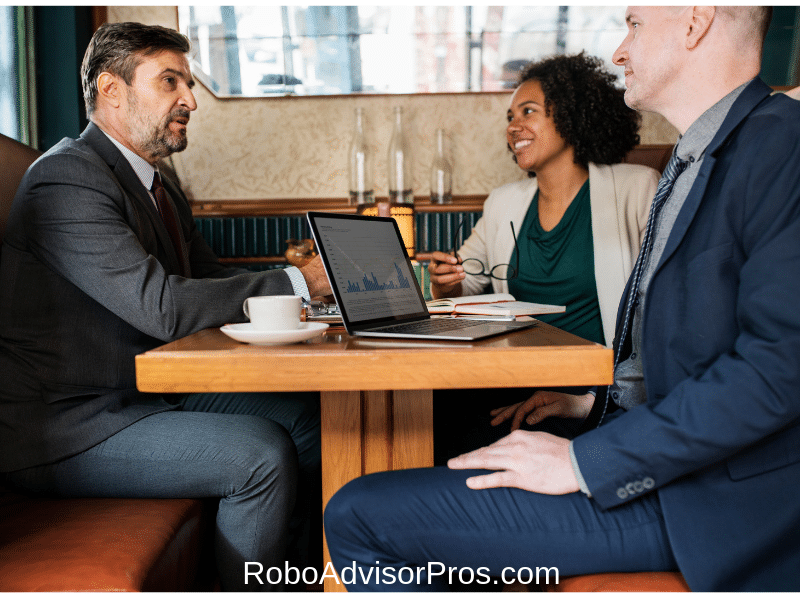 Betterment vs. SoFi Invest— Fees and Minimums
Minimums Winner: Betterment and SoFi Invest are essentially tied in the minimum investment category, with minimum investments of $10 and $1 respectively. Their account management fees, however, differ.
Fees Winner: It's tough to beat SoFi's fee-free investment management.
Betterment Fees and Minimums
Betterment has not minimum investment requirement to open an account. To begin investing you'll need at least $10.
Digital:
$4.00 per month for accounts worth less than $20,000
0.25% AUM for accounts worth more than $20,000 or with $250 per month auto deposit.
Premium: 0.40% AUM
Crypto:
1.0% AUM per month – plus trading fees for Digital clients
1.15% AUM – plus trading for Premium clients
Financial Advice Packages
Prices range from $299 to $399 per financial advice package
Cash accounts (through partner banks) do not charge management fees.
SoFi Invest Fees and Minimums
SoFi requires only $1 for an initial investment, which makes the difference between SoFi Invest and Betterment negligible. After all, any robo-advisor needs a few bucks to begin investing!
The real difference between Betterment vs. SoFi Invest is that SoFi does not have any account management fees. Free robo-advisors aren't that rare, but not many of them offer multiple other financial services under the same company— something that gives SoFi Invest a competitive edge.
SoFi is the only robo-advisory platform we're aware of with fee-free investment management and fee-free financial advisory sessions.
Although, Schwab Intelligent Portfolios also lacks account management fees, and belongs to a broad-based financial firm with decades of history.
Betterment vs. SoFi Invest— Robo Investing Deep Dive
Betterment vs. SoFi Invest— Human Financial Planners
Winner: The SoFi vs Betterment financial advising win goes to SoFi investing as their financial planning access is free.
Betterment provides Premium clients unlimited access to Certified Financial Planners, for a 0.40% AUM fee.
For those who want some access to human professionals but aren't looking to pay the Premium account management fee, or don't yet have the $100,000 minimum, Betterment's a la carte financial planning sessions might be the right choice. The fees are reasonable and the financial advisors can assist with a range of money-related planning decisions.
SoFi Invest offers one-half hour live investment advisor appointments to answer client questions or concerns. This is a huge selling point for SoFi, since few free robo-advisors offer human financial professionals. For more complex questions, and to help develop a personalized financial plan, SoFi has a team of financial planning professionals.
Betterment vs. SoFi Invest— Tax-Loss Harvesting
Winner: Betterment is the clear victor here, because SoFi Invest does not offer tax-loss harvesting.

A quick reminder, tax loss harvesting only applies to taxable accounts, not retirement accounts.
Betterment clients are eligible for tax-loss harvesting, whether they are Digital or Premium clients.
Betterment vs. SoFi Invest— Investments
Winner: In the SoFi vs Betterment investment duel, Betterment takes the win due to the well-researched fund selection and variety of investment strategy options.
Betterment Investments
Betterment offers a wide range of investments, including:
US. Total Stock Market Stocks
US. Large-, Mid-, and Small-Cap Value Stocks
International Developed and Emerging Market Stocks
US. High Quality Bonds
US. Municipal Bonds
US. Inflation-Protected Bonds
US. High-Yield Corporate Bonds
US. Short-Term Treasury Bonds
US. Short-Term Investment-Grade Bonds
International Developed and Emerging Market Bonds
Socially responsible investment portfolios
Income portfolio
Smart beta portfolio
Crypto portfolio
SoFi Investments
SoFi investments can include:
Real Estate
High-Yield Bonds
SoFi Select 500 ETF
SoFi Next 500 ETF
SoFi 50 ETF
SoFi Gig Economy ETF
Small-Cap ETF
Developed and Emerging Markets ETFs
Total Bond Market ETF
Cryptocurrency
Those interested in self directed investing can trade stocks, ETFs and crypto currency through SoFi Active Investing.
Betterment vs. SoFi Invest— Rebalancing
Winner: It's a tiel.
Rebalancing is a core feature with all robo advisors. This automated task buys or sells specific investment funds at periodic times so that your investment mix, or asset allocation remains in accord with your initial preference.
Simply, if you chose a 60% stock vs 40% bond allocation and it drifts to 65% stock and 35% bond, then 5% of your stock funds would be sold and reinvested in bond funds. That keeps your investment mix constant.
Studies show that rebalancing reduces portfolio volatility and may even boost returns.
Both SoFi Invest Automated Investing and Betterment offer rebalancing. Betterment monitors your asset allocation daily and rebalances whenever your allocation drifts 3% from its target. SoFi rebalances quarterly.
Betterment vs. SoFi Invest— Customer Support
Winner: SoFi Invest wins the customer support contest.
Customer support doesn't matter, until you need it, and then – it's important.
Monday through Friday, Betterment offers daily phone customer service with separate numbers for help with the Betterment Checking and Cash Reserve products and investing/general questions. On week-ends, email customer service is available.
SoFi Invest offer phone support seven days a week. This is helpful when you want to talk to someone on the week-end.
Betterment vs. SoFi Invest— Cash Management
Winner: It's a tie between Betterment Cash Reserve and SoFi's cash management offering.
If you're seeking high yield cash accounts, then Betterment Checking and Cash Reserve (through partner banks) and SoFi Money will both abide. Both offer high yield cash accounts which means that your money earns higher than average interest on the balance. The SoFi savings account offers high yields, similar to those of the Betterment Cash Reserve account. Both robo-advisors offer checking and debit cards.
FAQ
Is SoFi a Good Investment company?
SoFi offers a wide range of opportunities for investors from the fee-free automated advisor to self directed, crypto and stock bits investing. SoFi also provides a range of lending products.
Which is better – SoFi or Robinhood?
Robinhood is an investment app which offers commission free trading of stocks, funds, options, crypto along with cash management and a 1% match retirement account. In contrast, SoFi Invest offers stock and fund, crypto, and automated investing. If you want an investment manager/robo-advisor, then SoFi is better. If you are an active trader and want to trade options then Robinhood is best. Otherwise, either might fit your needs.
Betterment vs. SoFi Invest— Which is Best? The Takeaway
Across the internet investors ask, "Is SoFi Legit?" or "Is SoFi worth it?" While the same questions might also apply to Betterment.
In the Betterment vs. SoFi Invest head-to-head, it appears as if the robo-advisors are closely matched. Yet, we implore you to consider your own needs first and then to evaluate which robo-advisor is a fit for you.
If account management fees are not your main concern, SoFi Invest and Betterment offer unique investment options that can set them apart:
Betterment offers Socially-Responsible Investment (SRI), Income and Smart-Beta portfolios. Investors who want to invest in line with their ethics or who want a chance to beat the market may end up choosing to go with Betterment— provided the 0.25% AUM fees are acceptable (or the $4.00 monthly fee for accounts smaller than $20,000 without auto deposit).
Both Betterment and SoFi Invest offer cryptocurrency investment options.
Investors who want fee-free access to human financial planners will choose SoFi. However, those who want tax-loss harvesting will need to rely on Betterment, as SoFi Invest does not currently offer this service.
Betterment is one of the oldest robo-advisors with a proven record of success and robo investing is their main business.
While SoFi Invest is a newer entrant to the arena with less time in the robo advisory genre.
Clearly, both robo-advisors provide a lot of value to investors. That being said, SoFi Invest's free account management pushes it ahead in many cases. Unless clients are specifically looking for SRI options, Smart-Beta portfolios, or tax-loss harvesting, SoFi is the clear victor. We recommend caution when investing in cryptocurrency.
Read the complete Betterment Review.
Read the complete SoFi Invest Review.
*Betterment is not a licensed tax advisor. Tax Loss Harvesting+ (TLH+) is not suitable for all investors. Read more at https://www.betterment.com/legal/tax-loss-harvesting and consider your personal circumstances before deciding whether to utilize Betterment's TLH+ feature. Investing involves risk. Performance not guaranteed.
**Cash Reserve is only available to clients of Betterment LLC, which is not a bank, and cash transfers to program banks are conducted through the clients' brokerage accounts at Betterment Securities. For Cash Reserve ("CR"), Betterment LLC only receives compensation from our program banks; Betterment LLC and Betterment Securities do not charge fees on your CR balance. Checking accounts and the Betterment Visa Debit Card provided and issued by nbkc bank, Member FDIC. Checking made available through Betterment Financial LLC. Neither Betterment Financial LLC, nor any of their affiliates, is a bank. Betterment Financial LLC reimburses ATM fees and the Visa® 1% foreign transaction fee worldwide, everywhere Visa is accepted.
More Comparison Articles