One of the premier digital investment platforms, the Wealthfront robo-advisor isn't resting on its laurels. This robo-advisor is innovating to remain one of the most popular automated investment advisors in the fintech universe.
Is Wealthfront worth it?
*This article contains affiliate links to help pay for this website. That said, our reviews are held to the highest standards of honesty.
This expert Wealthfront Review evaluates the funds and specialized features. Find out if this low-fee robo-advisor is right for you.
Wealthfront Review

Name: Wealthfront Review
Description: Wealthfront is our favorite low-fee digital-only financial manager. Banking and lending add to Wealthfront's benefits.
Fees

Investment Choices

Ease of Use

Tool & Resources
Summary
Best for:
Investors comfortable with "all digital" investment manager. Their online financial planner is the most comprehensive we've seen.
Investors seeking vast investment diversification including stocks, bonds, real estate, energy and more.
Investors who want tax-loss harvesting.
Pros
Low investment minimum and management fee.
Many account types available.
Wide choices of ETF and stock investing available.
Cons
No human financial advisors.
Lacks small cap and value ETFs.
What is Wealthfront?
Wealthfront is one of the largest robo-advisors or digital investment managers with $20 billion assets under management. Offering low investment management fees, Wealthfront employs state of the art research to craft an efficient, diversified investment portfolio.
"Wealthfront is the only automated financial advisor to offer the combination of financial planning, investment management and banking-related services exclusively through software." ~Wealthfront.com
This means that your investments are managed in a comparable way to a high fee financial advisor, for a fraction of the cost. Wealthfront's combination of strategies would take an individual investor or investment manager 105 hours to replicate, according to company research.
Features at a Glance
| | |
| --- | --- |
| Overview | Automated investment management robo-advisor with extra features. |
| Minimum Investment Amount | $500 |
| Fee Structure | 0.25% of AUM. Zero fees for cash account. |
| Top Features | Digital financial planner. Daily tax loss harvesting. Hi yield cash account. Loans available. |
| Free Services | Free portfolio review. Home buying guide. |
| Contact & Investing Advice | Phone for clients & Email 24/7. Client service reps have Series 7 or CFP designations. |
| Investment Funds | Low fee, diversified stock & bond ETFs. |
| Accounts Available | Joint & individual taxable, Trust, Traditional, Roth & rollover IRAs, Simplified Employee Pension (SEP) IRAs, & 529 College Savings Plan accounts. |
| Promotions | First $5,000 managed for free. |
Find out if Wealthfront is worth it, for you?
Wealthfront promises to answer your questions:
How much should I to save?
Where to keep my emergency cash?
Which accounts to use for various goals?
How to craft the best investment strategy?
Can I buy a home?
When can I retire?
Can I take time off for travel?
How to save for my children's college?
What Differentiates Wealthfront from Betterment From other Robo-Advisors?
At the helm is chief investment officer, Burton Malkiel, PhD, a respected investment researcher. He wrote the classic book, "A Random Walk Down Wall Street," which spurred the index fund investing revolution.
Wealthfront offers many unique features including a free Portfolio Review tool which evaluates your investments across key dimensions that impact future performance.
Wealthfront's daily tax-loss harvesting purports to give investors greater benefits than less frequent tax-loss harvesting. In fact, a recent study by the firm found that,  "over 96% of our taxable Investment Account clients have had their advisory fees fully covered by Tax-Loss Harvesting."
Find out: Which Robo-Advisors Offer Tax-Loss Harvesting
Wealthfront Path, the digital financial planning experience claims to provide investment advice, on a par with that of a human financial advisor.
Other unique features discussed more fully below are the Wealthfront Portfolio, Wealthfront's selling plan, direct investing and a 529 college savings account.
Further adding to the robos allure is the newly launched Wealthfront Cash account, adding banking services and a premier Wealthfront savings account to their other investing and planning offerings.
Check out the high yields offered on the Wealthfront Cash Accounts, now.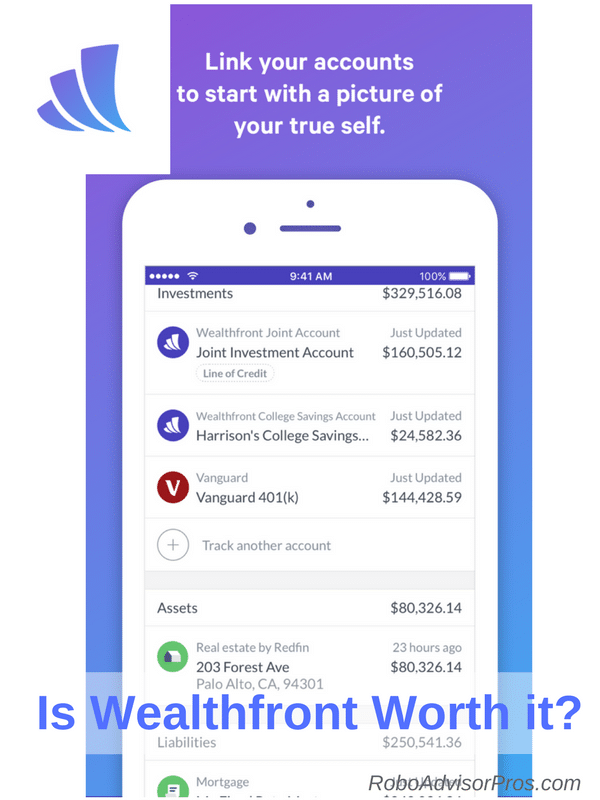 How Does Wealthfront Work?
"Our signature suite of investment features is designed to deliver higher returns without more risk."~Wealthfront.com
Path Financial Advisor
Wealthfront's initial questionnaire is impressive. It's as if you're speaking to a real financial advisor, without leaving the house. The Wealthfront Path financial advisor covers all the investment related questions.
Ultimately, an investment portfolio should be as personalized as possible and incorporate your situation, risk tolerance, salary, net worth and more. Wealthfront does an excellent job covering the financial planner questions, without talking to a human!
The initial Path Financial Planner questions include:
Choose your primary investment goal – general savings, retirement, college savings, other.
What are you looking for in a financial advisor? Create an investment portfolio, save money on taxes, money management, and to match or beat the market performance.
What's your age, salary and tax bracket?
What's your net worth?
What are your investment objectives – maximize gains, minimize losses, or both equally?
If your investment portfolio lost 10% of its value in a month, what would you do? Sell all, sell some, keep all, or buy more.
That's it for the initial, pre-sign up questions!
The Wealthfront investment plan – customized for you – is shown next.
Here's Brad's sample asset allocation. Brad is a 34-year-old single guy saving for retirement who sought guidance from the Path digital advisor to maximize gains and minimize losses.
Brad has an 8.5 + risk tolerance which is moderately aggressive.
After the initial questionnaire, you have an opportunity to answer more questions to receive additional personalized financial advice.
We like the multistep Path financial advisor, as you can get as much (or as little) help as you need.
Investment Options
Wealthfront's ETF (exchange traded fund) choices are divided among broadly diversified, low-fee stock, bond and alternative exchange traded funds:
| Investment Fund Category | Index Fund Ticker Symbol |
| --- | --- |
| US Total Stock Market | VTI and SCHB |
| Foreign Stock - Developed Market | VEA and SCHF |
| Foreign Stock - Emerging Market | VWO and IEMG |
| Dividend Appreciation Stock | VIG and SCHD |
| US Treasury Inflation Protected Bond (TIPs) | SCHP and VTIP |
| US Government Bond | BND and BIV |
| Municipal Bond | VTEB and TFI |
| US Corporate Bond | LQD |
| Foreign-Emerging Market Bond | EMB |
| Real Estate | VNQ and SCHH |
| Natural Resources (Energy) | XLE and VDE |
The Wealthfront's stock funds include:
U.S. stock market
International stock market with developed and emerging market stocks
Dividend appreciation ETF
Bond ETFs including government, treasury inflation protected bonds, U.S. corporate bonds, a foreign emerging markets bond fund and municipal bonds for those with a taxable account in a high tax bracket
U.S. real estate sector ETF
Energy Select Sector or natural resources fund
The funds are well diversified. The ETF list is current and may change in the future as Wealthfront's research evolves.
Your asset allocation will include investments from the above list, in percentages that relate to your asset allocation.
If you're a more conservative investor, you'll own more bonds and cash investments.
If you're younger or a more aggressive investor, you'll own a greater percentage of stock funds.
We believe that the fund choices are sufficiently diversified with low fund management fees. And if you'd prefer another asset allocation, you can choose a different risk tolerance level, which will change the percentages of stocks vs. bonds.
Go directly to the Wealthfront Site now to look around and learn more.
Portfolio Rebalancing
All Wealthfront investment portfolios are regularly rebalanced. Simply, if stocks outperform bonds and the percentage in equities grows above your target, these funds are sold. The underperforming bonds are bought to return to the preferred asset allocation. This reduces risk and may also increase returns.
Learn more about rebalancing in our Robo-Advisor FAQ
Fees
Wealthfront fees are competitive with major platforms like Betterment and Ellevest.
The Wealthfront management fee is 0.25% of assets undermanagement (AUM) annually. One-twelfth of this Wealthfront Advisory fee is deducted monthly.
Wealthfront doesn't charge an account-opening, withdrawal, account-closing, trading, commission or account transfer fees. The 0.25% AUM Wealthfront expense ratio is the entire account management fee.
There are no fees levied upon the Wealthfront cash account.
As with all exchange traded funds, there are management fees that go directly to the fund manager. The low fund management fees range from 0.06% to 0.13%.
Investment Minimum
The account minimum is $500.00. This entitles you to portfolio management of a diversified investment portfolio with rebalancing and tax-loss harvesting (for taxable accounts).
Free robo-advisor with $100 minimum: M1 Finance Review
What Accounts Does Wealthfront Support?
Wealthfront offers among the largest number of available accounts among the robo-advisors. They've recently added a college savings plan, the Wealthfront 529 account so that parents and grandparents can fund a child's college education. And the Wealthfront IRA and Wealthfront Roth IRA can be set up directly with the firm of rolled over from another provider or 403(B) account.
The available Wealthfront account list includes:
Personal investment accounts (i.e. regular taxable brokerage accounts, non-IRA)
Joint accounts (specifically, joint tenants with right of survivorship, or JTWROS)
Trust accounts
Traditional IRAs
Roth IRAs
Simplified Employee Pension (SEP) IRAs
IRA transfers
401(k) rollovers
529 college savings plan accounts
Sign up or check out Wealthfront now and get $5,000 managed for free!
Wealthfront Performance
Your Wealthfront returns will be determined by the date you invest and the funds in which you are invested. Thus, Wealthfront's performance is different for each client. Additionally, during different periods of time, specific asset classes will out- and under-perform. For example, there are periods where US stocks beat internationa stocks and vice versa. That is the reason that diversification is important, the future is unknowable.
Robo-advisor performance is a weak reason to choose an investment manager. As asset classes drift in and out of favor, so will the returns of the portfolio.
The Wealtfront's investment methodology is supported by Modern Portfolio Theory using index funds. This type of investing has been shown to outperform actively managed investing most of the time.
We are confident that due to the low expenses, expert managers and implementation of sound investing practices, that Wealthfront's performance will be solid over the long term.
Wealthfront App
With an average 4.9 rating from roughly 9,000 reviews on the iOS app store, you can be confident that the all-digital Wealthfront app is great!
From Wealthfront Cash on your phone to investment management, the Wealthfront App is among the best.
The Wealthfront app makes it easy to see your investments, add money, borrow, and plan for your financial future.
Wealthfront Features Drill Down
Tax Optimized Direct Indexing
The three tax-optimized direct indexing offerings are supported by their research-based white papers on the topic and suggest that these plans will reduce taxes and increase returns. The detailed explanations are helpful for the most sophisticated investors and can be found in the research section of the Wealthfront site.
Wealthfront Direct Indexing – Depending upon the value of your assets, Wealthfront offers three levels of Direct Indexing, each with an increasing opportunity to generate tax-savings:
Option 1– For accounts valued between $100,000 and $500,000.

Replace the Vanguard Total Stock Market ETF (VTI) with up to 100 large cap stocks from the S&P 500 plus a sample from the Vanguard Extended Market ETF (VXF) and Vanguard S&P 500 ETF (VOO).
This option is called the Wealthfront 100 or WF100.

Option 2 – For accounts between $500,000 and $1 million.

Replace stocks from the S&P 500 index and the Vanguard Extended Market ETF (VXF) with up to 500 representative individual stocks.
This option is called the Wealthfront 500 or WF500.

Option 3 – For accounts valued at more than $1 million.

Replace the Vanguard Total Stock Market ETF large cap and mid-cap stocks as well as stocks from the Vanguard Small-Cap ETF (VB) with up to 1,000 similar individual stocks.
The stocks in this option are called the Wealthfront 1000 or WF 1000.
This gives Wealthfront the opportunity to sell individual under performing stocks allowing investors to reduce taxable income in an attempt to improve the overall portfolio returns.
Single Stock Diversification Service or Selling Plan
For investors with an over-weighting in company stock, the Wealthfront Selling Plan helps obtain a more balanced portfolio. It's ideal for company employees with a great number of corporate stock shares. The single stock selling program applies to all public companies.
With the Selling Plan, Wealthfront sells your company stock tax-efficiently and commission-free. Instead of selling all your shares at once, the tailored transfer process migrates your investments tax-efficiently into your diversified Wealthfront portfolio.
Tax-Loss Harvesting
" And over the last five years, Wealthfront clients with a risk score 8 portfolio have enjoyed an average estimated after-tax benefit worth between 6 and 13 times our advisory fee. Tax-Loss Harvesting pays for itself, and it is the primary reason you're better off investing with Wealthfront instead of trying to do it yourself."

"How Wealthfron't Tax-Loss Harvessting Could Cover Your Advisory Fee," Wealthfront blog, November 15, 2020.
Wealthfront conducted research over the past five years and found that tax-loss harvesting offset the entire 0.25% management fee in 96% of the cases. This means that within a taxable account, with tax-loss harvesting enabled, it's as if getting free, professional, management.
All Wealthfront taxable accounts are eligible for tax-loss harvesting.
This tax-optimization strategy is carried out when one ETF is trading at a loss. Wealthfront sells that fund and replaces it with a similar one which keeps the portfolio asset allocation in line with your original asset mix.
The Wealthfront tax-loss harvesting is unique as other robo-advisors require a certain amount of money for tax-loss harvesting. Wealthfront's daily tax-loss harvesting claims to give investors significant savings over less frequent tax-loss harvesting.
For larger portfolios, in conjunction with the "direct indexing" you get stock level tax-loss harvesting. This is available with taxable accounts only. The stock level tax-loss harvesting can further lower fees and tax bills.
College Planning Guidance
The Wealthfront College Planning with Path feature helps navigate the complete college planning process. You select a college to see the total cost picture for the school, including room, board, tuition and expenses. Path calculates the financial aid your student can expect from the specific school. With the Wealthfront 529 account, you'll find out how much your savings will grow and the amount of the expenses your account will cover.
This is an invaluable service for parents and grandparents planning for a child's college expenses.
What is the Wealthfront Risk Parity Fund?
Risk Parity is an optional investing strategy for accounts worth more than $100,000 that attempts to boost risk adjusted returns in a variety of market conditions.
There's been quite a bit of press about the Wealthfront Risk Parity Fund. Since it's an optional service, you can follow the discussion to determine whether it's appropriate for you or not.
Whether you use a robo-advisor or not, you must sign up for the FREE money management dashboard and reports below. I use it myself!
Wealthfront Smart Beta
Also called Advanced Indexing, the Wealthfront Smart Beta is another feature for investors with more than $500,000 invested in a taxable account. This investment strategy adjusts a taxable portfolios asset allocation based on other factors than the typical market capitalization percentage.
Smart beta considers factors such as investment momentum, value, dividend yield, market beta and volatility.
If you're interested in this investment strategy but haven't yet reached $500,000, Betterment also offers smart beta investing.
Wealthfront Borrow – Portfolio Line of Credit
If you have an expense, like a vacation or wedding, and don't want to sell investments, to free up cash, Wealthfront Borrow offers a portfolio line of credit. The loan is available quickly and with a low interest rate.
Wealthfront Borrow has no application fees and is available for all customers with an individual, trust, or joint investment account worth $25,000 or more.
Cash Account
Sometimes you need a cash stash. Think – rainy day fund, money for unexpected home repairs, cash for this year's vacation, or a 'what if' fund for the unexpected.
For ready cash and an emergency fund, the Wealthfront Cash Account offers a zero fee, high yield account. The minimum deposit amount is one dollar and the value of your account is secure with up to $1 million FDIC insurance and unlimited transfers, as previously mentioned.
It's clear that Wealthfront has a lot to offer the investor. Their features are equal to or better than the typical robo-advisor.
Here are our final Wealthfront pros and cons, listed so that you can answer the question, "Is Wealthfront Worth it?"
The combined checking/savings account offers a lot:
Interest paid on all deposits
No fees
No minimum deposit
Free ATMs with debit card
Direct deposit – with access to cash 2 days early
Unlimited free transfers
Automatic bill pay-for standard bills and to friends through Venmo, PayPal and other apps
Mobile check deposit through app
Whether you have a Wealthfront investment account or not, you can sign up for a No Fee Cash account.
Wealthfront Self-Driving MoneyTM – Autopilot
Newly launched, Autopilot is Wealthfront's first Self-Driving moneyTM service. We expect additional features to this suite of tools to make money management easier.
The goal of Autopilot is to transfer money that you don't need for current spending automatially into an investment account.
Autopilot works with both the Wealthfront Cash account and any external banking account.
Here's how the Autopilot works:
Choose one account to monitor – any checking or your Wealthfront Cash account.
Set the maximum amount of cash that you need in the account. If you like to keep a robust checking balance it could be $1,000. Or you could select any amount,.
Next select the account you want the excess from the first account transferred into – lik you Wealthfront Investing account.
Then, when the balance exceeds your designated maximum by $100 in the first account, it will automatically be transferred into the second.
This allows you to keep your money growing.
Financial Planning and Reports
We love this feature. By linking all of your accounts, those managed by Wealthfront and those outside, you can receive excellent financial reports and advice.
You can link the following accounts to Wealthfront; checking, savings, retirement, investment, trust, mortgage, credit card, loan, health savings, and cryptocurrency.
After linking your accounts you'll have access to the following financial planning projections (and more):
Retirement spending
Savings growth and rate
Investment fees
Home value, debt-to-income ratio, and home equity
Investment and account values
Net worth
Customer Service
This isn't discussed frequently, as Wealthfront is an all-digital financial management and robo advisr platform, but the Wealthfront team of client services specialists have specialty credentials, not usually found among robo-advisor customer service staff.
"All our Client Services team members are Series 7 licensed professionals and several hold CFA (Chartered Financial Analyst) or CFP (Certified Financial Planner) designations. They have experience from traditional firms, but are passionate about changing financial services for the better."

Wealthfront.com
It's rare to find a customer service representative at a robo-advisor with and understanding of investing principles.
Is Wealthfront Safe?
We understand that security is paramount when investing. And the short answer to 'Is Wealthfront safe?' is yes. Let's break down all of your questions so you can be confident in Weathfront's security.
Basic Wealthfront Platform Security
Wealthfront partners with expert security companies to create and maintain secure, read-only links. These firms use bank-grade security and employ state of the art data protection. Wealthfront does not store your account password.
The security companies specialize in tracking financial data; they employ robust, bank-grade security and follow data protection best practices.

~Wealtlhfront website
Your data is not shared with anyone.
You can be confident that Wealthfront is as secure as any financial institution.
Is Wealthfront FDIC insured?
The FDIC or Federal Deposit Insurance Corporation is an independent agency of the federal governemnt that banks and savings associations fund, in exchange for insurance for their customers deposits.
The Wealthfront high yield cash account insures deposits up to $1,000,000. Insured by the FDIC where no insured deposits have been lost since 1933. The reason for the high cash deposit insurance amount is because your money is spread across four banks, each offering $250,000 FDIC insurance.
Can I lose money with Wealthfront?
Consider the Wealthfront Cash Account as safe as any bank account, with a higher level of FDIC insurance. You will not lose money from your Wealthfront Cash Account (as long a you don't keep more than $1 million in the account).
The Wealthfront Cash account is as safe as your brick and mortar or online savings account.
Although, your Wealthfront investment account is subject to the ups and downs of the investment markets, and there may be periods when your account will lose value. In the past, gaining years in the investment markets are more frequent than losing years.
Is Wealthfront a legitimate bank?
The Wealthfront Cash account stores your money across several legitimate banks including Green Dot Bank.
The Wealthfront company is not a bank.
In sum, Wealthfront is as safe as any financial institution. Yet, realize that any money in the investment account can go up and down in value. (Although over the long-term, investment values have gone up)
Wealthfront Promotion
On the other hand, the money in the high yield cash account will not lose value.
Sign up for Wealthfront with this link and you'll receive $5,000 managed for free.
Get $5,000 managed for free when you sign up for Wealthfront with this link.
Wealthfront Invite
Once you are a Wealthfront customer, you're eligible for free investment management. When a friend signs up and funds their account, you get $5,000 managed for free. And your friend also gets $5,000 managed for free! It's a win – win.
Is Wealthfront Worth it? Pros and Cons
Pros
The Wealthfront management fee is low at 0.25% of AUM after the initial, always free, first $5,000 and the minimum $500 entrance fee is reasonable.
The tax-loss harvesting offerings is a draw and daily TLH might improve performance for taxable accounts.
Loans for existing customers who have cash needs but don't want to sell their current investments can come in handy for unexpected expenses. Personally, I prefer using the cash account to save up a substantial account which can be deployed for sudden or planned short-term cash needs.
The single stock selling plan is unique and a niche product for investors with a large amount of company shares.
The foreign-emerging market bond ETF (EMB) is an excellent diversification element giving investors a chance to dip their toe in to the foreign bond world, which is less correlated with other assets in the Wealthfront offerings. We like all of Wealthfront's investment funds.
When you transfer in your funds, Wealthfront helps minimize capital gains taxes as your existing assets are sold. For new investors or those with small portfolios, this is a benefit.
The Wealthfront Path financial planning tool is a confidence-builder when you need to understand if you're 'on track' for retirement.
The high yield cash account is a strong sell, and only available at a handful of robo-advisors, including Betterment.
At present, Wealthfront is the best all-digital financial management and advice service that we are aware of.
Cons
The Wealthfront review negatives are slim.
One size fits all doesn't fit everyone. The lack of alive advisor to consult with may be a negative for some investors. With Betterment offering both human financial advisor access and a la carte financial planning packages, Wealthfront lags in this area.
Need someone to talk to? 7 Robo-Advisors with Human Financial Planners
It's unclear why the energy ETF (XLE) is labeled a natural-resources fund and not an energy fund. There are questions about why XLE was selected over other sector funds or why it is needed at all.
Wealthfront omits small cap and value ETFs from their lineup. These asset classes have long term evidence of outperforming the overall investment markets.
FAQ
How good is Wealthfront?
Wealthfront is among the oldest and most reputable robo-advisors. The fees are low and investment methods are sound. We recommend Wealthfront without reservation – for investors comfortable with an all-digital investment platform. If you prefer a robo with financial advisors, consider Betterment.
Can I trust Wealthfront?
Yes, your money is safe at Wealthfront, and the high yield cash account offers $1 million FDIC insurance. This article outlines all the risks and benefits of investing with Wealthfront. But, whenever you invest in the stock and bond markets, the value of your investments can go up and down.
Can Wealthfront Make You Money?
Investing in the financial markets has been an excellent to grow your wealth. In that way, Wealthfront can make you money. Over the last 100 years, invetors earned an average 9% per year investing in the stock market. But, during shorter periods you can lose money. Only invest in financial markets with money you won't need for at least 3-5 years.
Is Wealthfront Good for Beginners?
Yes. We like Wealthfront for beginning investors. Although Wealthfront Cash has no minimum deposit, you need $500 to open an investment account. If you meet the minimum and are comfortable with an all-digital investment advisor, then Wealthfront is great.
If you don't meet the minimum investment amount you might consider SoFi Invest which requires $1 to invest and doesn't charge management fees.
Is Wealthfront Worth it? Final Wrap up
Wealthfront is among the largest stand-alone robo-advisors. They offer transparency, tax-sensitive investing and the PassivePlus® investing approach all for a low fee. For new investors, it's an excellent choice. For those with larger portfolios, the tax-optimized direct indexing is a compelling feature.
Is Wealthfront worth it? Yes, Wealthfront is worth it with it's host of differentiated features at a low fee. It's good for those investors looking for a middle point between a DIY approach and a full-fledged financial advisor. For the wealthy users, it's important to round out your Wealthfront investment account with a tax professional and estate planning attorney.
Compare
Betterment
Wealthfront
M1 Finance
Overview
A goals based automated investment advisor. Betterment bills itself as, "Investing Made Better." Offers a variety of human financial planning options.
Wealthfront offers a low fee digital investment portfolio management tool with the added potential to lower your taxes. 
Free robo-advisor with opportunity to customize investments.
Minimum Investment Amount
There is no minimum investment amount required for Betterment Digital. Premium requires $100,000 minimum.
$500
$100
Fee Structure
Digital-0.25% AUM up to $2 million.
Premium-0.40% AUM up to $2 million
Reduced fees above $2 million.
0.25%
Zero fees for investment management. Per service charge for mailed statements, account closure etc.

Top Features
Goal-based ETF investment portfolio. Rebalancing. Tax-loss harvesting. SRI, smart beta + income portfolios. Human financial advisor access.
Automated investment management including rebalancing, daily tax-loss harvesting & portfolio review.  Simple selling plan for those with company stock. For investors with more than $100K, tax-optimized  direct investing service may lower taxes & increase returns. Path online financial advisor explains whether you're "on track" for retirement. 
Unlimited variety of investment vehicles & strategies. Choose your own investments or pick from pre-made investment portfolios. Access to socially responsible funds. Rebalancing.
Free Services
See promotions.
First $5,000 is managed for free. 
No management fees. Includes free rebalancing + buying and selling securities.
Contact & Investing Advice
Phone and email support, 7 days per week.
Phone M–F 10 am–8 pm ET
Email-24/7
Phone M-F and Email-24/7
Investment Funds
Low-cost, commission-free ETFs.
Vanguard, Schwab, iShares & State Street ETFs. ETFs from stock, bond, real estate & natural resources/energy asset classes.
Stocks, bonds, funds, and more.

Accounts Available
Single + joint taxable brokerage. Roth, traditional, rollover + SEP IRA. Trust.
Individual & joint investment accounts. Roth, traditional, SEP & rollover IRAs. Trusts. 529 college savings plan accounts. 
Single + joint taxable brokerage. Roth, traditional, rollover + SEP IRA. Trust. Business accounts.
Visit Website
Free management fee promotion in effect (time limited)
Wealthfront
Ongoing free investment management.
Related:
Disclosure: Please note that this article may contain affiliate links which means that – at zero cost to you – I might earn a commission if you sign up or buy through the affiliate link. That said, I never recommend anything I don't believe is valuable.