Is Wealthfront Worth it? Wealthfront Review-Part 3
Wealthfront Review-Part 3
Find the answer to "Is Wealthfront worth it?" for you. Learn about their fund offerings, returns, and return-boosting add ons.
Now it's time to get our hands dirty and integrate the Wealthfront Review-Part 1 and Part 2 with the available funds and a detailed explanation of the differentiating features of the Wealthfront platform. Finally, you'll be able to decide whether Wealthfront is worth it for you, or not.
The Wealthfront Review-Part 3 final analysis integrates all the key components of the platform and gives you confidence to answer the question, 'Is Wealthfront Worth it for you?'
Wealthfront Succeeds at Robo-Advisory Differentiation
The Wealthfront Path Financial Advisor is a one-of-a-kind true digital investment advisor. The platform digs into your current and future financial life in the same way that a human might and strives to come up with an investment plan tailored to your special circumstances. Path eliminates the human error that might arise from a human financial advisor.
Wealthfront is one of a handful of robo-advisors that considers all of your investing, credit, and banking accounts to get a complete financial picture. And, Welath has one of the best robo-advisor investing apps.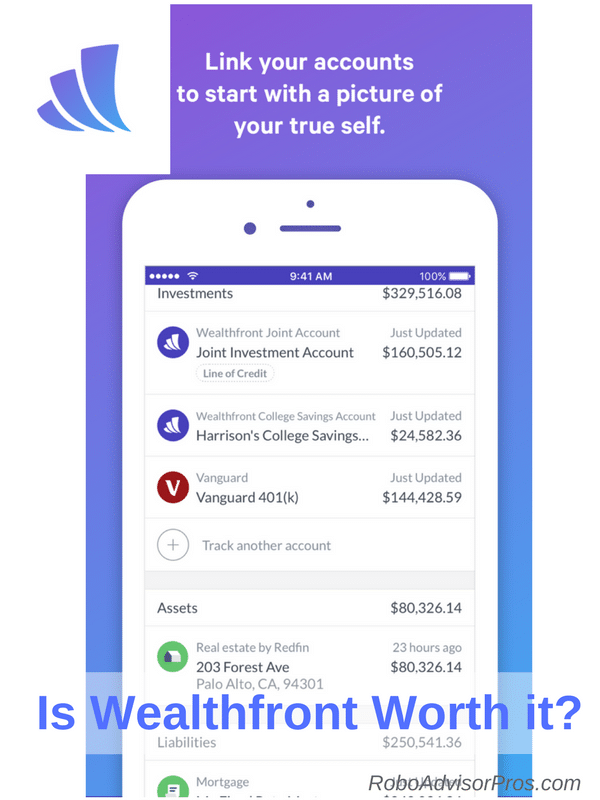 Wealthfront trademarked its PassivePlus® investment methodology.
"It's our signature suite of investment features designed to deliver more returns without more risk, applied to individual, joint, and trust investment accounts at no additional cost. It includes Tax-Loss Harvesting, Direct Indexing, and Advanced Indexing."~Wealthfront.com
Tax-loss harvesting strives to reduce the taxes arising from your non-retirement investment account.
Direct indexing continues to reduce your tax bill by taking losses on individual stocks, held within an index and is available to accounts over $100,000
Advanced Indexing is Wealthfront's improvement on existing Smart Beta ETFs. Wealthfront has implemented a multi-factor investment strategy combined with its Direct Indexing feature, which adds a level of tax efficiency not found in existing Smart Beta ETFs. This is available to accounts valued at more than $500,000.
What Funds Does Wealthfront Use?
Wealthfront's fund choices are divided among broadly diversified, low-fee  stock, bond and alternative exchange traded funds: 
| Investment Fund Category | Index Fund Ticker Symbol |
| --- | --- |
| US Total Stock Market | VTI and SCHB |
| Foreign Stock - Developed Market | VEA and SCHF |
| Foreign Stock - Emerging Market | VWO and IEMG |
| Dividend Appreciation Stock | VIG and SCHD |
| US Treasury Inflation Protected Bond (TIPs) | SCHP and VTIP |
| US Government Bond | BND and BIV |
| Municipal Bond | VTEB and TFI |
| US Corporate Bond | LQD |
| Foreign-Emerging Market Bond | EMB |
| Real Estate | VNQ and SCHH |
| Natural Resources (Energy) | XLE and VDE |
 The stock funds cover the U.S. and international markets including both developed and emerging markets as well as a dividend appreciation ETF. The bond ETFs span government, treasury inflation protected bonds, U.S. corporate bonds, a foreign emerging markets bond fund and municipal bonds for those with a taxable account in a high tax bracket.
The final two sector funds cover the U.S. real estate sector and Energy Select Sector SPDR ETF (XLE), an energy or natural resources fund.
The funds are well diversified. The ETF list is current at present and may change in the future as Wealthfront's research evolves.
Is Wealthfront Worth It? Consider Add-ons That Distinguish Wealthfront
Once the portfolio is selected and the client's assets are invested there are additional add-on services that seek to boost the portfolio returns.
Tax Optimized Direct Indexing
The 3 tax-optimized direct indexing offerings are supported by their research-based white papers on the topic and suggest that these plans will reduce taxes and increase returns. The detailed explanations are helpful for the most sophisticated investors and can be found in the research section of the Wealthfront site.
Depending upon the value of the client's assets, Wealthfront offers three levels of Direct Indexing, each with an increasing opportunity for generating tax-savings:
Option 1– For accounts valued between $100,000 and $500,000

Replace the Vanguard Total Stock Market ETF (VTI) with up to 100 large cap stocks from the S&P 500 plus a sample from the Vanguard Extended Market ETF (VXF) and Vanguard S&P 500 ETF (VOO).
This option is called the Wealthfront 100 or WF100.

Option 2 – For accounts between $500,000 and $1 million.

Replace stocks from the S&P 500 index and the Vanguard Extended Market ETF (VXF) with up to 500 representative individual stocks.
This option is called the Wealthfront 500 or WF500.

Option 3 – For accounts valued at more than $1 million.

Replace the Vanguard Total Stock Market ETF large cap and mid-cap stocks as well as stocks from the Vanguard Small-Cap ETF (VB) with up to 1,000 similar individual stocks.
The stocks in this option are called the Wealthfront 1000 or WF 1000.
This gives Wealthfront the opportunity to sell individual under performing stocks allowing investors to reduce taxable income in an attempt to improve the overall portfolio returns.
Tax-Loss Harvesting
All Wealthfront taxable accounts are eligible for tax-loss harvesting. This tax-optimization strategy is carried out when one ETF is trading at a loss. Wealthfront sells that fund and replaces it with a similar one which keeps the portfolio asset allocation in line with the investors original preferences.
Single Stock Diversification Service or Selling Plan
This service helps investors with an over-weighting in company stock obtain a more balanced portfolio. This service is ideal for company employees with a a great number of corporate stock shares. Initially limited to a few companies, the single stock selling program applies to all public companies, according to the company.
Portfolio Rebalancing
Although not a differentiating feature, it's important to mention that like most other robo-advisors, Wealthfront implements portfolio rebalancing, or returning the asset class percentages back to their original amounts. This serves to reduce risk and may also increase returns.
Is Wealthfront Worth it? – Final Pros and Cons
Wealthfront Pros
The Wealthfront management fee is low at 0.25% of AUM after the initial, always free, first $10,000. This annual fee is among the lowest of the robo-advisor group.
Minimum $500 entrance fee is reasonable.
The company targets newer, younger investors just beginning their careers.
Chief investment officer, Burton Malkiel, is a well-regarded and accomplished member of the finance and investing community, and author of the classic, A Random Walk Down Wall Street.
The tax-loss harvesting offerings are relatively uncommon among the robo-advisory field.
The single stock selling plan is a welcome add on for a segment of investors.
The foreign-emerging market bond ETF (EMB) is an excellent diversification element giving investors a chance to dip their toe in to the foreign bond world, which is less correlated with other assets in the Wealthfront offerings. Additionally, the EMB isn't found on many other robo's platforms.
When you transfer in your funds, Wealthfront helps minimize capital gains taxes as your existing assets are sold. For new investors or those with small portfolios, this is a benefit.
The Path financial planning tool is a confidence-builder when you need to understand if you're 'on track' for retirement.
They offer loans for existing customers who have cash needs but don't want to sell their current investments.
If you're ready to learn about how Wealthfront can benefit your financial life, then click on the banner below:
Wealthfront Cons
One size fits all doesn't fit everyone. The lack of someone to consult with may be a drawback for some investors.
It's unclear why the energy ETF (XLE) is labeled a natural-resources fund and not an energy fund. There are questions about why XLE was selected over other sector funds or why it is needed at all.
Wealthfront omits small cap and value ETFs from their lineup. These asset classes have long term evidence of outperforming the overall investment markets.
Is Wealthfront Worth It?
Wealthfront has grown to manage over $4.6 billion in assets as of January 2017. They offer transparency, tax-sensitive investing and the PassivePlus® investing approach all for a low fee. For new investors, it's an excellent choice. For those with larger portfolios, the tax-optimized direct indexing is a compelling feature.
Is Wealthfront worth it? Yes, Wealthfront is worth it with it's host of differentiated features at a low fee.  It's good for those investors looking for a middle point between a DIY approach and a full-fledged financial advisor. For the wealthy users, it's important to round out your Wealthfront investment account with a tax professional and estate planning attorney.
Although, if you want a comparable product with human financial advisor access, you might review the Betterment Review.
Click here for direct access to the Wealthfront Website.