Should I sign up for Personal Capital?
You must sign up for Personal Capital because of the free Personal Capital Dashboard!
You may have seen Personal Capital discussed online and on television. Now, learn why this robo-advisor or automated investment advisor is a required tool for anyone who wants to maximize their wealth.
Is Personal Capital free? Yes and no. The company offers a suite of free money and investing tools. Personal Capital Wealth Management is a paid investment and money manager.
Personal Capital is actually two services. This Personal Capital Review is a deep dive into:
The free Personal Capital software and financial dashboard
The Personal Capital Wealth management service – includes unlimited financial advisor sessions
*Disclosure: Please note that this article may contain affiliate links which means that – at zero cost to you – I might earn a commission if you sign up or buy through the affiliate link.
Personal Capital Review
Name: Personal Capital
Description: Free personal finance software, tracking and tools. Plus, financial advisor driven robo-advisor to manage your money.
Fees

Investment Choices

Ease of Use

Tool & Resources
Summary
Best for:
Anyone seeking investment management and tracking
Those seeking comprehensive financial management services.
Pros
Free retirement planning, budgeting, investment management.
Investment management with financial advisor, individual stocks and socially-responsible investing.
Top-ranked investment app.
Cons
Users must field a call from a company representative.
Even if you don't hire Personal Capital to manage your investment portfolio, you must sign up for Personal Capital's free financial software, tools, calculators and more.
You can track all of your investments and bank accounts without paying anything.
Personal Capital is a more complex version of Mint.com with a focus on investing. Comparable (or better than) Quicken, Personal Capital is free. I use both Personal Capital and Quicken and my Personal Capital dashboard is easier to use and updates more easily than the paid Quicken program!
Features at a Glance
Overview
Digital investment management robo-advisor in concert with human financial advisors.
Minimum Investment Amount
Zero minimum for access to free investment management tools. $100,000 minimum for managed accounts.
Fee Structure
0.89% for investments of $1M to $2.9M. Fees decline as assets increase. Low 0.49% for accounts over $10 M.
Top Features
Free investment and retirement management tools for all.
For paid users: Certified Financial Planners, full financial plan, individual stocks, diverse asset classes, tax-loss harvesting and cash management.
Free Services
The most comprehensive suite of financial planning tools including cash management, investing and retirement planning tools.
Contact & Investing Advice
24/7 email access. Phone, video and chat with financial advisors (for paid users).
Investment Funds
Individual stocks, ETFs, low fee bond and alternative asset ETFs. Individual bonds for accounts +$1M.
Accounts Available
Individual & joint investment accounts. Roth, traditional, SEP & rollover IRAs. Trusts.
Promotions
Free financial, retirement, and portfolio tracking tools.
Personal Capital Dashboard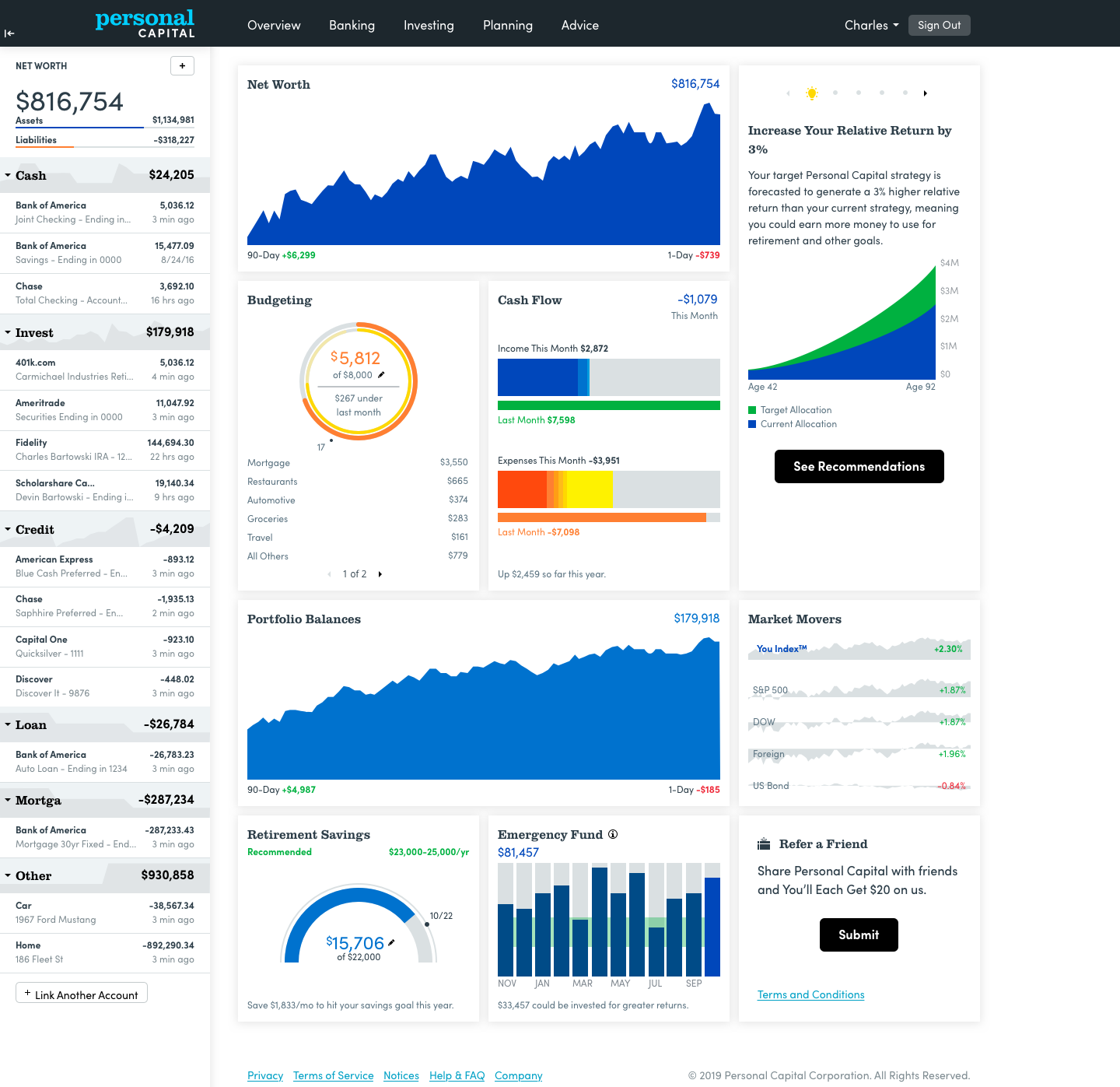 Whether you are an experienced investor, like I am, or just starting out financially, Personal Capital offers something for you. You must sign up – its free and using Personal Capital is easy!
The Personal Capital financial software will simplify your financial life.
I understand that you need to know more, so here is my personal review of the platform. We'll start with the free Personal Capital tools so you can discover if Personal Capital is legitimate.
This three part review covers:
What is Personal Capital?
Personal Capital Free Software and Investing tools
Personal Capital Wealth Management and Advisors
1. What Is Personal Capital?
Personal Capital is a financial management powerhouse.
Personal Capital.com offers free tools for saving, budgeting, retirement planning, net worth tracking and more.
Personal Capital Wealth Management offers financial advisors and proprietary investment management including tax optimization, dynamic portfolio allocation and social responsible investing. Personal Capital pricing is less expensive than most financial advisors.
How Personal Capital Works
Personal Capital takes all of your financial accounts and gives you information and direction about how to best allocate your money and investments to yield the greatest long term financial outcome.
More than 3.3 million people use Personal Capital to track over $22.7 billion in assets.
Connect your accounts and the free service gives you personalized financial information about; budgeting, spending, saving, investing, asset allocation and even tax loss harvesting.
You Must Sign Up for Personal Capital If:
You want a 3600 view of your complete financial picture; bills, income, debt, investments and more.
You're a DIY investor who likes control of your finances.
You have many investments across various accounts.
You want to drill down into free retirement planning calculations.
You're interested in planning for Junior's college expenses.
You want a continuously updated record of income versus spending and a comparison with the previous month.
You might want to speak with an experienced financial advisor.
If you answered yes to at least one item, you must sign up for a free Personal Capital Account.
You get comprehensive spending, saving, and investment performance information in a user-friendly interface.
The investment manager, Personal Capital Advisors offers complete investment management with financial advisors. We'll discuss the wealth management features in part three.
2. Free Software and Investing Tools
Financial management starts with knowing your complete financial picture.
One of the most important financial goals is to grow your net worth over time and the Personal Capital dashboard keeps your complete financial picture front and center.
Keep your net worth growing and the rest of your financial life will fall into place.
I've set net worth and financial goals my entire life, and with decades in the investment markets, the financial growth is gratifying.
Kind of like dieting, if you don't measure where you are when you start, you won't know when you reach your goal. The same is true of tracking your net worth.
Personal Capital Reports and Features
After the sign up for Personal Capital you gain access to the following reports:
Net Worth and Account Balances
Personal Capital budgeting
Cash Flow Analysis
Income Report
Spending Report
Investment Returns
Asset Allocation View
Retirement Planner and Fee Analyzer
Investment Check-up
Not only do you receive a picture of your current financial situation, but you get help managing your investments and figuring out what you're doing well and what can be improved.
The Personal Capital app android and iOs bring your finances to your fingertips. Just download from the app store of your choice.
The reports allow you to perform a complete analysis of your finances and plan for the future.
The Personal Capital tools help you:
Analyze your cash flow.
Calculate your net worth.
Check on and analyze your investments.
Plan for retirement.
Plan for college expenses.
Analyze your account fees
Prepare for a recession
Before we get into a drill down of the features in the free Personal Capital finance money management tools, here's a quick overview of the sign up.
Spoiler alert – it's very easy to sign up.
Personal Capital Sign Up
You'll receive tremendous financial data and information for a few minutes of set up time.
To begin, you complete 2 screens.
The first screen asks:
Your name
Your Age
Planned retirement age
Amount saved for retirement
Sign-up time; less than a minute.
From there you input your account information.
This section is quick and easy.
I was prepared for hours of anxiety and difficulty linking my investment and banking accounts to the program, but it was fast and easy. I've got a complicated financial situation and my accounts linked within minutes.
To quickly link your accounts, fill in the name of your financial institution and enter your account log in information – User ID and Password.
Remember; Personal Capital has bank-level encrypted security. If you use any bank or investment broker apps, then you should feel comfortable with this platform.
This linking screen populates fast, and then you're ready to link your next account.
Finally, repeat these steps until all of your accounts are linked.
Data collection sign-up time; less than one minute per account.
Now, you're ready to enjoy the broad range of saving, spending, budgeting, investing and analysis tools.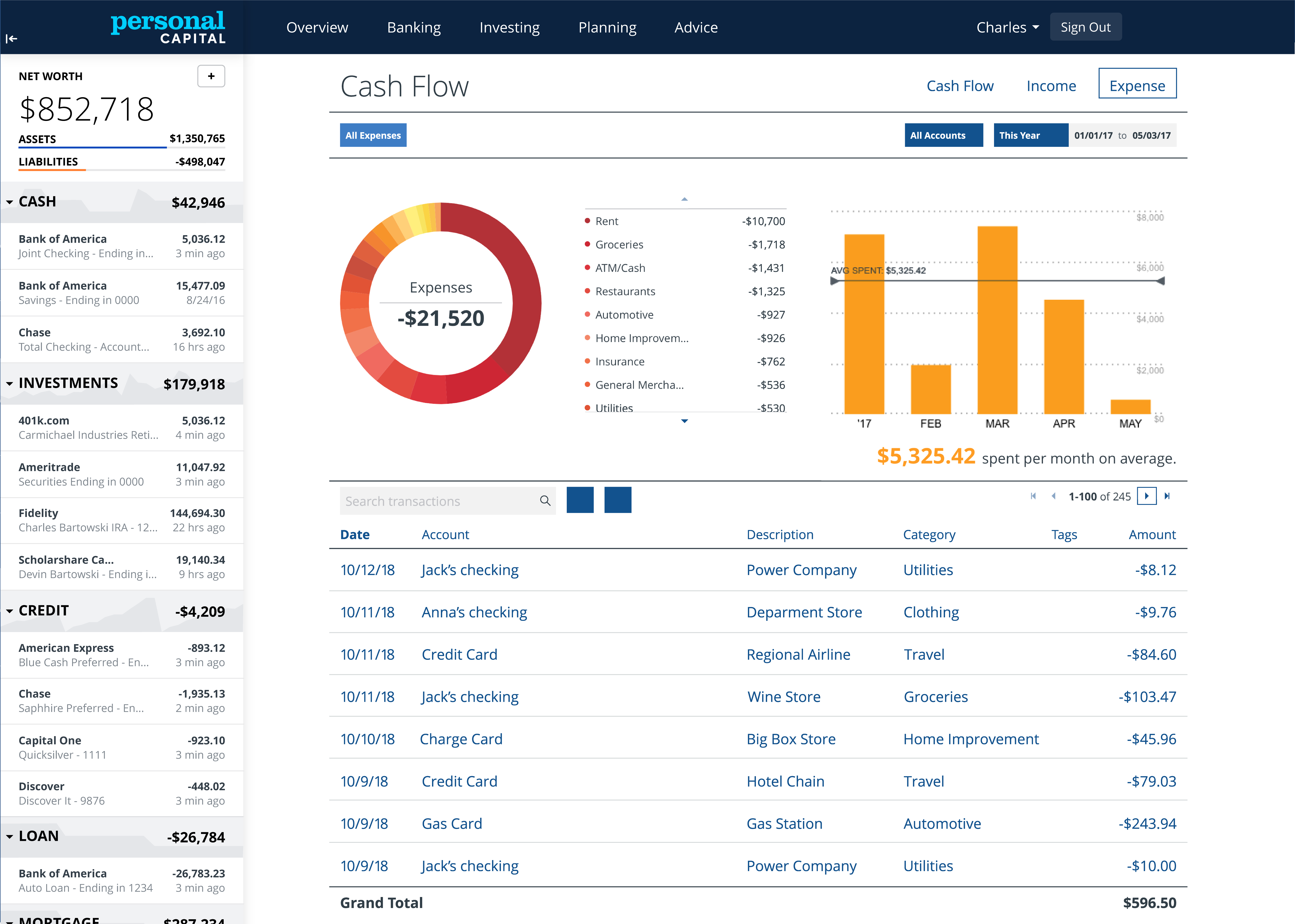 Cash Flow
Your financial plan starts with knowing how much money you have now, how much is coming in and the amount that you're spending. The Cash Flow tool streamlines this segment of your life with a detailed dashboard.
Cash flow is your day-to-day, week-to-week money management compass. With cash flow data, you've got the tools to see where your money is going and whether you need to make changes or not.
Next, the income screen shows where your income is coming from, and how it's changing over time.
Income
The income screen highlights where your money is coming from. The bar allows you to compare your monthly income with the average. You can also adjust the view to highlight a variety of time periods.
By analyzing your income, you can assess your incomes sources and use that data to consider how to improve your income profile.
If the image shows a positive month, with more income than spending, that's good. If you're having a month with more spending than income, you can't hide from it.
Click on any section, and zoom in to see a detailed view. Click on income and see all of your income sources.
Expenses
On the expense screen you get your detailed spending analysis.
This 'in your face' cash flow picture gives you ready access to the viability of your lifestyle choices.
Go to spending and find out exactly where your money is going.
I remember the first time I noticed how much our family was spending on dining out, it was a real eye-opener. It caused us to sit down and figure out if the money we spent at the restaurants was worth the damper it was placing on our financial growth.
Interested in analyzing your spending more? Personal Capital categorizes each purchase and you can drill down to view the date and merchant.
Budgeting
With a busy life, it's tough to stay on top of bills due dates and when you made your last payment. Click on the Bills tab under Banking and Personal Capital shows you when bills are due, the minimum payment and total amount outstanding.
Investing
Being able to see all of your investment accounts is ideal. After inputting all of your information, you have a 360o view of your retirement, bank, and brokerage accounts. You can integrate that CD you have with a credit union with your prior 401(k) account, a Roth IRA, discount brokerage account and any other type of financial account that you have. This allows you to splice individual cash, stock, bond, mutual fund, ETF and any other financial holdings into a total picture.
You can view and analyze your investment portfolio:
Holdings
Balance
Asset Allocation
Performance
Sector Allocation
Investment Check Up offers recommendations to improve returns.
Investment Check Up
Compare your current portfolio allocation to the ideal target allocation designed to minimize risk and maximize returns to meet your financial goals,"

~Personal Capital website
The investment check-up offers priceless tools. The overriding question that the investment check-up answers is "Could your portfolio give you greater returns for a reasonable risk level?"
The program answers this question by comparing your current asset allocation to the recommended target. Personal Capital offers suggestions to improve your returns, as well.
Target Asset Allocation
Personal Capital reviews your asset allocation and offers recommendations to improve returns in the Investment Check up.
Based on your risk preferences and expected retirement date Personal Capital creates an asset allocation for you. You get a personalized asset mix, with the greatest return for the least amount of risk. This portfolio leans towards the aggressive side.
Here's my current asset allocation. My portfolio holds 10% in cash, which is more than Personal Capital recommends.
I like holding a lot of cash, when the stock market is highly valued, so that when stocks go on sale, I can buy at lower prices.
Personal Capital Retirement Planner
Are you wondering if you're on the correct trajectory to meet your retirement goals? The Personal Capital retirement planner gives you the answer. The retirement planner is one of the most coveted wealth management servcies in this investment tool.
In fact, I believe this is one of the best retirement calculators available online.
The calculator tells you:
Best and worst case retirement scenarios.
How much you can spend each month throughout retirement. If you're out of whack and your spending is projected to surpass your income, you've got time and tools to adjust.
How to adjust your projected spending and include special expenses like a large vacation or more. 
The Retirement Planner is flexible and allows you to switch inputs, such as annual projected spending, income events and even the opportunity to reduce spending as you age.
After uploading all of your investment and retirement accounts, you can estimate future income sources and spending goals. The accompanying graph then projects the probability of reaching your retirement goals.
You can change the inputs to find out how more or less spending will impact your future financial situation.
The Recession Simulator, which you can create in the "scenario view" tells how your portfolio might hold up if there is a recession at a date of your choosing. For example, if you expect to retire at age 65, the recession simulator will show how that will affect your financial projections.
The image above shows a family that's done its retirement planning correctly. They desires $8,500 per month spending yet have the ability to spend more, without running out of money.
The free retirement planner is included in the FREE personal finance software, and money management tools.
Retirement Fee Analyzer
This retirement fee analyzer calculator is also included in the free tools and reviews your fund fees. This shows how much of your money is going to pay the fund manager, not into your investments.
Even low fees can add up.
When Personal Capital analyzed my portfolio it showed that my average expenses were a rock bottom 0.22% as compared to the benchmark portfolio fees of 0.50%. Yet, despite comparatively low expenses, the fees still detract from total returns.

Since Personal Capital Advisor uses individual stocks, there are no annual fees for individual stock ownership. You'll only pay for the Personal Capital portfolio management fee.
Personal Capital FREE Portfolio Review
If you sign up for the free Personal Capital tools, and your aggregate linked accounts are worth more than $100,000, you're eligible with a free portfolio review, by a financial planner.
Click on the button below, sign up and get your investment portfolio reviewed by a Certified Financial Planner (no strings attached):
Just sign up with the link, connect your accounts and wait for a call from the Personal Capital representative!
Using Personal Capital
My Asset Allocation
When comparing the current allocation with the suggested target, in my portfolio there's more cash, than recommended as well as fewer international bonds than recommended. I'm also underweighted in US stocks.
The platform explains their recommendations, but you ultimately can choose to follow the suggestions or not.
There's a slider that shows various scenarios for differing asset allocation mixes from more conservative to more aggressive. I liked this feature, as it gives the investor the opportunity to tweak their own asset allocation.
It's important to understand that all investment return projections are based upon historical asset class returns. So, if specific investments, such as international stocks or US bonds don't perform as they did in the past, the future returns will deviate from the projected gains.
We like this feature because you can decide whether your asset allocation is best or if you should consider revamping it. This is ideal for intermediate and advanced investors.
Risk v. Return
In the next graph from the Personal Capital investment tools section you can see the interaction between risk and return of the sample portfolio versus the targeted.
Personal Capital uses Modern Portfolio Theory (and has its founder, Harry Markowitz, on their investment committee). The curve or efficient frontier represents the interaction between the portfolio's risk and return with any portfolio which lies on the line representing the greatest return level for the amount of risk desired.
If you're willing to take on greater risk for the possibility of higher returns, then your investments will include more stocks and will be further to the right, on the efficient frontier.
Comparing my current allocation with the target, you'll see that the expected return is 7.6% with a risk level of 10.3%. If I switched to the recommended allocation, Personal Capital projects that I could increase my potential return to 7.8% with the same level of risk.
The projected return between my portfolio and the Personal Capital one is minimal, just 0.2%.
I appreciated the FAQ at the end of the check-up. The list of questions and answers is great if you have any lingering concerns about how Personal Capital comes up with its results.
The company explains that "The Investment Checkup" is limited to the data you have aggregated and the profile information you have entered." In other words, the analysis is only as good as the inputs. It's also important to realize, these are projections, and the returns aren't guaranteed.
These are high level tools offered for free. There's really no reason not to sign up for the free cash and investment management tools.
Pros and Cons of Free Personal Capital Software
Personal Capital Software Pros
The data overview and integration is phenomenal. It's helpful to view net worth, income, expenses, and investments with the push of a button.
The retirement analyzer is a superb tool, as is the retirement fee analyzer.
The drill down into aspects of your portfolio is similar to the Morningstar x-ray tool and is a great way to uncover holes in your diversification strategy.
The You IndexTM allows you to compare your investments against various benchmarks. For example, after a market drop the S&P fell -3.19%, while my portfolio only dropped -1.9%, due to its conservative allocation.
Set up is very simple.
Excellent, bank-level security.
Good Personal Capital App, mobile and tablet access.
Personal Capital dashboard, reports, retirement planning, investment check up and more are free.
Personal Capital Software Cons
All assumptions are based upon past data. There is no guarantee that the past performance of any asset classes will continue into the future.
Their assumptions are a bit aggressive for my taste, even for the moderate portfolio. The investment check-up, using historical assumptions doesn't jive with my personal preference of capital preservation over growth.
The historical reports only go back two years. For more extensive reporting capabilities you might add Quicken to your investment management tool kit.
3. Personal Capital Advisors – Wealth Management Services
" Our ultimate goal is to establish and maintain a strategic investment portfolio for every client. This includes portfolio construction, security selection, portfolio monitoring and trade oversight," ~Personal Capital Website
So far this review of Personal Capital has covered the rich offerings of the Personal Capital technology-assisted platform. From cash flow, investing, and retirement there are a wealth of free resources. The easy setup and robust dashboard make this investment planning tool a must for your financial and investment management-whether you use Quicken, Mint or another system. Next, learn how the dedicated Personal Capital Advisors work for you.

I had a productive and informative meeting with a financial advisor where I received a complete analysis and personal portfolio review.

This drill down by the top investment committee of Personal Capital does not obligate you to sign up for the paid service but gives you an idea of what to expect if you were to employ Personal Capital to manage all or part of your investment portfolio.

Here's what to expect if you engage Personal Capital Advisors to manage some or all of your assets. You'll also learn about the Personal Capital pricing, fee structure, and investment philosophy.
Wealth Management Features
Personal Financial Plan driven by financial advisor.
Smart Indexing — Incorporates Modern Portfolio Theory and equal sector/size weighting.
Tax Optimization
Dynamic Portfolio Allocation
Rebalancing
Cash Management
Bonus: Six Robo-Advisors with the Human Touch
Smart Indexing
Personal Capital's dynamic asset allocation and smart weighting is unique among robo-advisors.
Personal Capital creates an index with a sample of individual comapany stocks for portfolios larger than $200,000. Investors with under $200,000 have exchange traded funds in their accounts.
The goal is to achieve a relatively even exposure to size, style, and economic sector. The result of the strategy is to have equal weight in each major investment sector. This method contrasts with typical indexes that weight companies ownership by market capitalization or number of shares multiplied by share price.
Personal Capital's expected benefits of smart weighting:
Better diversification
Increased return potential 
Avoidance of sector bubbles
Elimination of fund costs
Increased tax management opportunities
Since 1990, sector weighting has outperformed the market-capitalization weighted S&P 500 stock market index.

Personal Capital Wealth Management Levels
Personal Capital Wealth Management is available to high net worth clients with at least $100,000 of investment assets.
For clients with $100,000 to $200,000 of investable assets you receive:
Financial planning tools
Financial advisory team
Financial and retirement planning
Investment management and review
Tax optimization
For clients with $200,000 to $1,000,000 of investable assets you receive:
Two dedicated financial advisors
Specialists in real estate, stock opgions and more.
Investment portfolio customization including access to individual stocks.
Full financial and retirement plan
Tax loss harvesting and tax location
Guidance with all financial decisions including insurance, home financing, stock options and compensation.
For clients with over $1,000,000 of investable assets you receive all of the above plus:
Access to the investment committee.
Customizable individual stocks, individual bonds (in certain circumstances) and ETFs.
Estate, tax and legacy portfolio construction.
Private equity and hedge fund review.
Donor advised funds.
Private equity and hedge fund review.
Private banking services.
Personal Capital Fees
How Much Does it Cost to Use the Paid Version of Personal Capital?
Personal Capital will manage your assets with a minimum investable balance of $100,000. The Personal Capital fee structure is as follows:
| Assets Managed by Personal Capital | Fee per Assets Under Management (AUM) |
| --- | --- |
| $100,000 - $2,999,999 | 0.89% |
| For clients who invest $1,000,000 or more | |
| First $3,000,000 | 0.79% |
| Next $2,000,0000 | 0.69% |
| Next $5,000,000 | 0.59% |
| Over $10,000,000 | 0.49% |


The fees paid to Personal Capital include advisory services as well as execution fees of securities transactions including any brokerage or third party management costs. Personal Capital is a Registered Investment Advisory firm and operates under a fiduciary standard which upholds the company to put your interests above their own.
The fee structure is lower than that of most financial advisors
Pros and Cons of Personal Capital Wealth Management
Pros
The sector weight allocation is a distinct from the majority of other robo advisors and studies claim that this approach will protect investors from excessive portfolio risk and improve returns.
Their fees are competitive, when compared with other financial advisors. Actually, most financial advisors charge greater than 1.0% of AUM and often times up to 1.75%.
The purchasing of individual stocks (and bonds) within the portfolio provides greater opportunities for tax loss harvesting and can lower income taxes.
My advisor listened well, confirmed my investing and retirement plans, prepared the Personalized Investment Strategy, all for no charge. He was helpful, not pushy or sales-oriented.
All advisors are credential Certified Financial Planners.
The addition of investing in individual stocks adds to Personal Capital's wealth management flexibility.
Personal Capital offers tax, estate planning and sophisticated financial guidance.
Their advisor board includes three of the top minds in investing today: Harry Markowitz, Sholomo Bnartzi and Luis Aguilar.
Cons
You need $100,000 of investable assets to use the Personal Capital advisors paid advisory service. The platform is designed for the mass affluent client.
The asset allocation recommendation for someone 10 years from retirement seemed aggressive with 26% allocated to bonds and cash and 74% in stock assets. Although, you're free to adjust it.
Only time will tell whether sector weighted investing will outperform market-weight asset allocation in the future. There are flaws with back-testing a theory, as it doesn't guarantee that the results will play out accordingly in the future.
There are other robo-advisors, with access to personal financial advisors with lower fees. Wealthsimple charges .40 to .50%, Betterment Premium charges o.40% and includes financial advisor access. Vanguard Personal Advisors requires a $50,000 minimum investment, offers advisors and charges a 0.30% AUM fee.
Personal Capital Cash
The current Personal Capital interest rate is 3.35% and 3.45% APY for Personal Capital Advisors clients.
Here is a summary of the main features of the Personal Capital Cash account:
| | |
| --- | --- |
| Overview | A savings account |
| Savings rate (subject to change) | Personal Capital Cash interest rate varies with market rates |
| Account fees | $0 |
| FDIC insurance | Yes – $1.5 million for solo accounts and $3.0 million for joint accounts |
| Minimum account balance | $0 |
| Mobile app | Yes |
| Deposits and transfers | Unlimited |
| Direct deposits | No, only ACH transfer |
| Bill pay | No |
| Branches | No |
| ATM access | No |
FAQ
Is Personal Capital safe?
Security is their top priority. Personal Capital's encryption is rated A+ by the world-renowned Qualys SSL Labs, a stronger rating than most major banks or brokerages. They offer two factor authentication. No employees have access to customer data.
Is Personal Capital worth it?
Yes! The free personal finance tools are awesome and comparable with many paid wealth management tools. For wealthier individuals, the Personal Capital Advisors offer solid financial management for reasonable fees. The base 0.89% fee is lower than most comparable financial managers.
Is Personal Capital Really Free?
Yes, the basic personal finance, money and investment management tools are free. This includes a retirement planner, budgeting and investment tracking tools. The financial manager, Personal Capital Advisors charges a fee.
Personal Capital Review Summary
There's no doubt that the free Personal Capital dashboard, cash flow, retirement planner, investment checkup and investment analyses are invaluable tools for the consumer. For the investor looking for a financial planner, the fees are reasonable and the services exceptional.
There are no future return guarantees for any investment approach and only time will tell if Personal Capital's dynamic asset allocation plan beats a more conventional market-weighted investment approach.
We recommend signing up for the free service, speaking with the investment advisor and deciding whether the paid service fits in with your personal investing needs.
Compare
Personal Capital
Betterment
Overview
Personal Capital offers stellar free investment management tools. and paid advisors and management.
A goals based automated investment advisor. Financial advisors available.
Minimum Investment Amount
No minimum amount for free tools. $100,000 for Premium.
No minimum investment for Digital. $100,000 minimum for Premium.
Fee Structure
Zero fees for free investment management tools. Premium-0.89%-0.49% AUM
Digital-0.25% AUM.
Premium-0.40% AUM
Top Features
Free money and investment management dashboard. Human advisors and customized financial plans.
Financial advisors for all. Complete digital investment and cash management.
Contact & Investing Advice
Phone M-F 6 am-6 pm PT
Email-24/7
Phone 9-6M-F EST. Email 7 days per week.
Investment Funds
Personal Capital Advisors invests in individual stocks (for large accounts) and stock, bond and alternative ETFs.
Low-cost, commission-free ETFs and cryptocurrency.
Accounts Available
Individual + joint investment accounts. Roth, traditional, SEP + rollover IRAs. Trusts. 
Individual + joint taxable brokerage. Roth, traditional, rollover + SEP IRA. Trust.
Promotions and Website
Superb free money and investment management dashboard. 
Free management fee promotion in effect (time limited)
Related
Disclosure: Please note that this article may contain affiliate links which means that – at zero cost to you – I might earn a commission if you sign up or buy through the affiliate link. That said, I never recommend anything I don't personally believe is valuable.
Personal Capital Advisors Corporation ("PCAC") compensates Wealth Media, LLC. ("Company") for new leads. Wealth Media, LLC is not an investment client of PCAC.