Personal Capital vs. Betterment Review
Choosing a robo-advisor can be daunting. This Personal Capital vs. Betterment Review will help you sort out the similarities and differences. As a former portfolio manager and investment expert, I've discuss the differences in fees, investment style and provided insight into who is best suited for each robo-advisor.
I use the Personal Capital free investment and financial management dashboard!
It's essential to keep your financial goals in mind if you want to achieve them, and today's featured robo-advisors will help you do just that.
*Disclosure: Please note that this article may contain affiliate links which means that – at zero cost to you – I might earn a commission if you sign up or buy through the affiliate link.
Personal Capital and Betterment, two goals-oriented robo-advisors, may have been designed for different client types, but both keep your financial needs in mind and offer unique ways of setting and tracking financial goals.
First, a quick overview of Betterment vs Personal Capital Robo-Advisor Features.
Personal Capital
Betterment
Overview
Personal Capital offers stellar free investment management tools. and paid advisors and management.
A goals based automated investment advisor. Financial advisors available.
Minimum Investment Amount
No minimum amount for free tools. $100,000 for Premium.
No minimum investment for Digital. $100,000 minimum for Premium.
Fee Structure
Zero fees for free investment management tools. Premium-0.89%-0.49% AUM
Digital-0.25% AUM.
Premium-0.40% AUM
Top Features
Free money and investment management dashboard. Human advisors and customized financial plans.
Financial advisors for all. Complete digital investment and cash management.
Contact & Investing Advice
Phone M-F 6 am-6 pm PT
Email-24/7
Phone 9-6M-F EST. Email 7 days per week.
Investment Funds
Personal Capital Advisors invests in individual stocks (for large accounts) and stock, bond and alternative ETFs.
Low-cost, commission-free ETFs.
Accounts Available
Individual + joint investment accounts. Roth, traditional, SEP + rollover IRAs. Trusts. 
Single + joint taxable brokerage. Roth, traditional, rollover + SEP IRA. Trust.
Promotions and Website
Superb free money and investment management dashboard. 
Free management fee promotion in effectFree management fee promotion in effect (time limited) (time limited)
Personal Capital vs. Betterment Robo-Advisor — Overview
Both of these robo-advisors help clients easily set financial goals. They also offer the best of the robo-advising features: portfolio rebalancing and review, a variety of investment options, and multiple account types.
However, these two robo-advisors are much less alike than they would seem at first glance.
Personal Capital is a large robo-advisor, offering both free financial services (like their retirement planner) and paid investment services. The wide spectrum of services offered means that Personal Capital is a powerhouse of a robo-advisor.
With a higher investment minimum for paid services, Personal Capital Wealth Management paid services are geared for the mass affluent user.
In exchange for a higher entry point, however, clients experience personalized investment advice, the opportunity to invest in individual stocks as well as funds and other bespoke services.
Betterment is goals-oriented, so clients begin their relationship with Betterment looking toward the future. This robo-advisor has two levels of service, one for the smaller investor, seeking a completely digital investment manager and the Betterment Premium which offers financial advisors and personalized services for wealthier investors. In fact,when comparing Betterment Premium vs a financial advisor, the major difference just might be lower fees with Betterment.
In fact, Betterment is the sort of robo-advisor that grows with its clients. It's not uncommon to see Betterment adjusting its services in order to meet the changing needs of their investors with a la carte financial planning packages!
Personal Capital vs. Betterment—Top Features
These robo-advisors are customer-focused, offering a balance of free and premium services that offer increasingly personalized investment advice.
Personal Capital Top Features Overview:
Shows all of your financial accounts together in one place
Access to human financial planners with paid services
Investment analysis and recommendations including socially responsible investing and unique sector approach to investment management.
Complete financial and retirement plan
Personal Capital Cash with high yield savings account
Betterment Top Features Overview:
Customizable goals-based investing
Texting or in-person meetings (with Betterment Premium) with financial professionals
Free investment reviews
Diverse investment options including smart-beta and socially responsible investing
A la carte financial planning packages
Betterment Checking and Betterment Cash Reserve, a suite of cash management tools including both high yield savings and checking account options
Betterment vs. Personal Capital Robo-Advisors —Who Benefits?
Anyone can benefit from Personal Capital's free financial planning tools. The retirement planner is useful at any stage of the planning process, and we love the financial tracker for retirees at Personal Capital. Even if you use Quicken or another investment tracker, it's wise to sign up for the free Personal Capital financial tools.
When it comes to the paid services, however, only more financially well-off investors (with more than $100,000 to invest) can benefit from Personal Capital Wealth Management. If you have a large enough portfolio, however, these higher fees will buy you access to personalized financial advising services and attentive account management.
Although, the Personal Capital annual management fee is lower than the typical financial advisory charge.
So, if you have less than $100,000 to invest, let Betterment manage your investment portfolio.
But, regardless of your investable assets, anyone can sign up for the free Personal Capital Investment Management Tools and Reports.
With two service levels, the Betterment robo-advisor makes itself more accessible to all investors. While Betterment still has a higher minimum balance requirement for its Premium features, this robo-advisor is focused on affordability. No minimum balance requirement for the Digital Platform means that people at any stage of their investment portfolio development can gain access to a quality robo-advisor with human financial planner support via text messaging. Additionally, Betterment's management fees of 0.25% for the Betterment Digital and 0.40% for the premium service is enticing.
To top it off, Betterment Digital customers will benefit from the a la carte financial planning sessions for set fees. These financial planning packages further customize its services for its clients' unique needs.
Personal Capital Dashboard – available for free to all investors (click on the image to sign up).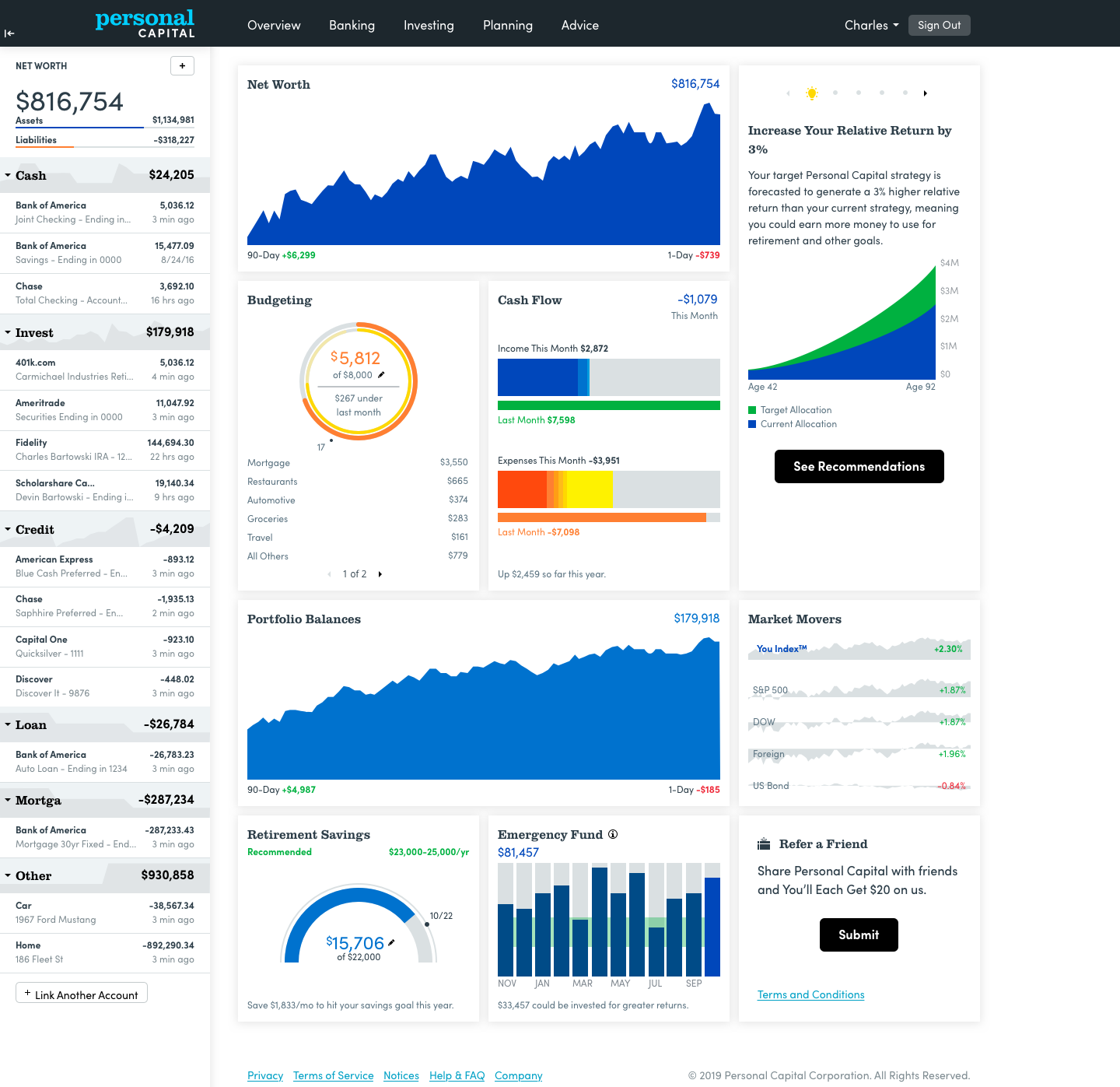 Betterment vs. Personal Capital — Fees and Minimums
When comparing Personal Capital vs. Betterment for fees and minimum investment amounts, Betterment is the clearly more affordable choice. Betterment Digital investors can open an account with no minimum balance, and charges middle-to-low range fees depending on their account type and balance. Although for access to video chat with financial planners, the Betterment Premium requires a $100,000 minimum, like Personal Capital.
For higher net worth investors Betterment Premium charges lower asset management fees than Personal Capital Wealth Management.
Betterment Fees
Betterment Digital clients will pay 0.25% AUM on accounts worth up to $2 million, or 0.15% AUM for accounts over this amount.
Betterment Premium clients will pay 0.40% AUM for accounts valued up to $2 million, or 0.30% for accounts over that amount. ($100,000 minimum)
Clients can also purchase a la carte financial planning sessions with professionals through Betterment at a rate of $150-$500 depending on the need.
Personal Capital Fees
Personal Capital Advisors, the premium service, requires a $100,000 minimum investment amount. The Personal Capital fees are higher than Betterment, beginning at 0.89% AUM but gradually dropping as portfolios grow. Clients with accounts valued over $10 million, for instance, will only pay 0.49% AUM.
Yet, we recommend considering more factors than fees alone, when evaluating whether to choose Betterment vs. Personal Capital.
Confused about which robo-advisor to choose? Answer a few questions and get a personalized recommendation with our Robo-Advisor Selection Wizard.
Personal Capital vs. Betterment—Deep Dive
Aside from the vast difference in fees and minimum initial investments, what is it that really sets these two robo-advisors apart?
If you had to choose between Personal Capital vs Betterment, which better suits your financial needs?
Personal Capital vs. Betterment—Personalized Service
Even though robo-advisors are effective because they tend to run autonomously, many investors want a more human connection to their finances. Personal Capital and Betterment both use human financial planners in their advising services, though at differing levels.
For Betterment clients, human financial planners are accessible via text message for all users, including the Betterment Digital clients. In-person video chat meetings are available for Premium and a la carte Betterment clients. This wide range of accessibility allows Betterment users to access financial planning help no matter what the size of their portfolio or pocketbook.
Personal Capital provides its clients with a dedicated financial planner. This is one of the ways that Personal Capital's higher fees can be seen as an investment—you truly get what you pay for!
With more than one million of investable assets the Personal Capital Private Client Services is akin to guidance available at traditional financial advisory firms, that charge much higher fees. These investors receive private banking services, access to private equity investmemnts, estate planning, tax strategy, insurance recommendations and more individualized services.
Personal Capital vs. Betterment—Keeping Your Goals Clear
Personal Capital offers free goal-tracking for your existing portfolio, if that's all that you're seeking.
Betterment promotes itself as a goals-based robo-advisor, and this is true. Betterment allows users to create multiple goals and track their progress toward these goals. Because of this, Betterment clients can always evaluate their financial growth against their long- (or short!) term goals.
Go Directly to the Betterment Website
Personal Capital also has goal-tracking features, and these features are part of their free offerings. For instance, the retirement planner allows users to add milestones or goals along the road to retirement. These entries immediately change the estimated success rate of retirement, which makes it easy to see when and how you might need to adjust your finances in order to stay on target.
Personal Capital vs. Betterment—Investment Types
In this category, the Personal Capital vs. Betterment robo-advisor comparison duel matches up well.
Personal Capital offers their clients access to individual stocks, bonds, and alternative ETFs. Betterment offers domestic and international bond options, Vanguard and iShares ETFs, and market-cap stock ETFs. Personal Capital also offers socially responsible investments.
Betterment offers a broad range of exchange traded funds from a range of stock and bond categories. Additionally, Betterment investors have access to:
Socially Responsible Investing
Income Portfolios
Investors need to understand that the investment methodology for Betterment and Personal Capital Wealth Management are distinct. While Betterment invests your money in index funds, most of these funds are weighted by market-capitalization. That means that the exposure to each sector of the investment world is comparable to those in unweighted market indexes like the S&P 500.
Personal Capital provides research on their website which claims that equal weighting, in lieu of sector-weighting your investments offers higher returns. Personal Caital also offers individual stock investing.
Thus, their investment methodologies are distinct. We'll discuss the performance issue next.
We give Betterment and Personal Capital investment choices a tie. Unless you prefer individual stocks in your portfolio (Personal Capital) or Smart Beta portfolios (Betterment), both platforms offer excellent investment choices albeit with distinct investment strategies.
Regardless of which paid robo-advisor that you choose. There's every reason to sign up for the Free Personal Capital investment management tools:
Betterment vs. Personal Capital Investment Performance
Comparing performance between robo-advisors that each offer differing investments and a multitude of invest allocations is quite difficult – if not impossible. Although there are firms that spend time calculating which robo-advisor had the highest returns during certain time periods, we don't believe that this data directly correlates with future returns.
As the saying goes, past performance doesn't guarantee future returns.
That said, both Betterment and Personal Capital have top notch investment teams and base their investment strategies on well-regarded investing theory.
Ultimately, when calculating investment returns, your future returns are typically correlated with those of the asset classes of your investments. So, if you own 25% large-cap stocks in your portfolio, then 25% of your portfolio's returns will approximate the returns of that asset category.
You can be confident that the return of each platform will be competitive with their asset allocations, although higher fees can reduce long term investment returns.
Personal Capital FREE Portfolio Review
Personal Capital is offering a FREE limited-time offer to review your current investment portfolio. ($799 value)
The offer is for those with more than $100,000 in assets.
Click on the button below, sign up and get your investement portfolio reviewed by a Certified Financial Planner (no strings attached):
Just sign up with the link, connect your accounts and wait for a call from the Personal Capital representative!
FAQ
Is Personal Capital worth the fee?
The Personal Capital Advisors managed account charges 0.89% for a dedicated financial advisor, investment management, and many other services. While, most financial advisors charge 1.0% to 1.5% or more. I recommend speaking with a Personal Capital financial advisor and making the decision whether this wealth manager is right for you or not. This is a personal choice, there's no right or wrong answer.
Is Personal Capital good?
Without a doubt, the free investment dashboard, reports, and retirement planning tools are exceptional. Try them out for free. The paid Personal Capital Advisors is a well respected financial advisory service, but the best financial advisor is the one that suits your needs. If you have the $100,000 minimum, and are considering using the service, then interview and advisor and decide for yourself.
Is Personal Capital better than Mint?
For investors with several accounts and a variety of assets, then Personal Capital is a more sophisticated investment management tool. For those seeking basic money tracking, budgeting and planning tools, Mint is just fine. For more information, read our Personal Capital vs Mint vs Quicken review. You can try each money management tool for free, and then decide for yourself!
Personal Capital vs. Betterment—The Takeaway
If you have a portfolio of high value (over $100,000), and want a full-service financial planner Personal Capital might be the way to go. What you pay in higher account management fees, you recoup by having a financial advisor dedicated to your portfolio and the hands-on, experienced portfolio assessment Personal Capital can offer.
Don't write Betterment off yet, though! Even though this robo-advisor might seem to be more geared toward smaller accounts, owing to its no minimum balance requirement and lower fees, Betterment is well equipped to handle large account types as well. Those who want hands-on financial advice can get it by upgrading to Betterment Premium, which also requires a $100,000 minimum. For smaller investors, Betterment's financial planning packages are an affordable option for targeted issues like; financial check up, marriage or college planning.
If you prefer a sector weighted investment approach, then Personal Capital is best suited to your needs. If you're more interested in typcial market-weight investing, then Betterment is the way to go.
In choosing which robo-advisor might be right for you, make sure you weigh all the factors: cost, access to human financial planners, and investment offerings might be only a few of the selling points you need to consider.
We believe that in the comparison between Personal Capital and Betterment, both robo-advisors are based on sound science, have top-notch advisors and are well suited to manage your money.
Direct Access: Betterment Website
Read the Complete Betterment Review
Direct Access: Personal Capital
Read the Complete Personal Capital Review
Related
Disclosure: Please note that this article may contain affiliate links which means that – at zero cost to you – I might earn a commission if you sign up or buy through the affiliate link. That said, I never recommend anything I don't believe is valuable.