When Should I Pay For A Robo-Advisor?
In the M1 Finance vs Vanguard race, the robo-advisor choice between a legendary firm and an upstart requires some analysis. M1 Finance offers free investment management, while Vanguard charges lower management fees than a typical financial advisor.
The Vanguard robo-advisor is part of a full-service brokerage, founded in 1975. The two Vanguard robo-advisors; Digital Advisors and Personal Advisor Services charge reasonable fees and offer two distinct services.
While M1 Finance is an investment platform with management, trading, borrowing, and a cash account. This upstart launched in 2015. The service offers free investment management with additional fees for an upgraded service.
*Disclosure: Please note that this article may contain affiliate links which means that – at zero cost to you – I might earn a commission if you sign up or buy through the affiliate link.
Today we're looking at M1 Finance vs Vanguard Robo Advisors — two investing options that come with vastly different price tags.
Features
M1 Finance
Vanguard Digital and Personal Advisor
Overview
Free investment manager with opportunity to customize investments.
Digital Advisor-Computerized investment manager
Personal Advisor Services-Hybrid live financial advisor and computerized investment manager
Minimum Investment Amount
$100
Digital - $3000
Personal Advisor - $50,000 (can be spread across multiple Vanguard accounts)
Features

Stock and funds trading.
Customized expert investment portfolios.
Cash accounts and borrowing.

Digital-Low-fee Vanguard ETFs.
Personal Advisor-Human advisor led investment manager. Many portfolios and funds available.



Fee Structure

FREE investment management.

$125 for M1 Plus with more features.

Digital - 0.15% AUM
Personal Advisor -
0.30% AUM up to $5 million
Lower fees for larger accounts.

Investment Funds
Over 6,000 ETFs and stocks. 
Diversified, low-fee fund in pre-made portfolios.
Digital - 4 Vanguard ETFs
Personal Advisor - Low fee stock & bond mutual funds and ETFs selected from among the scores of Vanguard funds. Includes passive and actively managed.

Accounts Available

Individual and joint taxable brokerage. Roth, traditional, rollover and SEP IRAs. Trust. Business. High yield cash account with debit card.

Individual and joint taxable investment. Roth, traditional, SEP, Simple and rollover IRAs. Trusts. 

Contact & Investing Advice
Phone 9:30 am–4:00 pm EST M-F 
Email-24/7
Customer support - Phone 8 am - 8 pm EST M-F, Email 24/7. 
Digital - No live financial advisor available.
Personal Advisor - Live online appointment with advisors. 
Cash Management
High yield cash account with debit card.
None available for robo-advisory clients.
Vanguard platform offers money market accounts and CDs through brokerage account.
Free Services
Free investment management.
Free trading.
Many calculators and educational resources at Vanguard.
Each of the platforms are unique and will appeal to distinct investors. You'll discover the top features, who benefits and finally a deep dive into the specific features of each service.
What is M1 Finance?
M1 Finance is a customizable robo-advisor that offers "pie" style investing: that is, investors select from over 6,000 investment options, with each investment in their portfolio making up a slice of the overall pie. The total pie, is your investment portfolio. Users can trade shares commission free.
Top Features:
Pre-made expert pies or portfolios
Choose your own investments of stocks and ETFs
Rebalancing
Tax minimization
M1 Spend – Cash management
M1 Borrow – Margin or lending account
What is Vanguard Personal Advisor Services and Digital Advisor?
The Vanguard brokerage financial firm is known for low cost investment products. And the robo-advisors are a low-fee alternative to higher priced financial advisors.
Vanguard Digital Advisor:
Computerized investment manager
Investment portfolios in line with your risk tolerance
Rebalancing
Vanguard Personal Advisor Services:
Live financial advisor led hybrid investment manager. Incorporates both computer algorithms and live advisor guidance.
Rebalancing
$50,000 minimum
Various investment styles including stocks, ETFs, and mutual funds
Who Benefits?
M1 Finance is best for:
Investors who prefer FREE investment management
Long term investors seeking commission free trading
Small investors to larger more experienced traders
Those who prefer fee-free investment management and trading
Those seeking pre-made expert pies along with individual stock and fund trading
Those who favor borrowing and cash management
Vanguard is best for:
Those who prefer investment management from a comprehensive financial firm.
Investors with at least $3,000 for the digital platform and $50,000 for the hybrid model.
Those seeking basic investment management for a low management fee for digital.
Wealthier investors seeking live financial planning combined with digital investment management for management fees lower than those at traditional financial advisors.
M1 Finance vs Vanguard Robo Advisors: Deep Dive
Fees and Minimums
Winner: M1 Finance wins on both accounts.
M1 Finance
This platform requires on $100 to begin investing.
The basic investment management service is free. This includes commission-free stock, fund, and expert pie trading.
M1 Plus charges $125 per year and includes:
A super charged checking account. The M1 Plus account offers a high yield checking account and a debit card with 1% cash back. Finally, M1 plus customers get 4 ATM withdrawal fees reimbursed per month.
Lower borrowing costs
Two daily trading windows, instead of one
M1 offers a lot of value in the basic plan, which we believe is suitable for most investors.
Vanguard
| | | |
| --- | --- | --- |
| | Digital Advisor | Personal Advisor Services |
| Minimum | $3,000 | $50,000 |
| Fees | 0.15% AUM | 0.30% to 0.05% AUM Declining fees for larger accounts. |
The fees for Personal Advisors Services are lower than several competitors that offer financial advisors. Although SoFi Invest offers fee-free investment management along with financial advisors and career coaches.
The ETFs and mutual funds included in the investment portfolios always charge small fees. These fees go directly to the fund manager. When Vanguard ETFs or mutual funds are used, the management fees go to Vanguard.
Investing
Winner: M1 Finance
M1 Finance
M1 Finance offers over 6,000 investments including individual stocks, ETFs and ready-made expert pies.
We love the expert pies as investors who don't want to choose funds on their own can be confident that the expert pies are well-constructed investment portfolios.
Sample M1 Finance Expert Pies:
General Investing – Perfect for well-balanced investments that match up with your risk level (like a typical robo-advisor).
Plan For Retirement – Similar to a target date fund.
Responsible Investing – Socially Conscious Investing.
Income Portfolios – Great for cash flow.
Hedge Fund Followers – Copy investing strategies of well-known investors, like Warren Buffett.
Just Stocks and Bonds – 9 Pre-made investment portfolios of just 2 funds from most conservative to very aggressive.
Vanguard Digital Advisor
This bare-bones robo-advisor invests in 4 exchange traded funds:
Vanguard Total Stock Market ETF (VTI)
Vanguard Total International Stock ETF (VXUS)
Vanguard Total Bond Market ETF (BND)
Vanguard Total International Bond ETF (BNDX)
This is certainly enough for diversification, but most competitors offer a wider range of funds and asset classes.
Vanguard Personal Advisor Services
After meeting with your financial advisor, your portfolio is constructed to fit your goals, financial situation, and risk tolerance. The are many fund options including:
Total Stock Market Index Fund (VTSMX)
Total International Stock Index Fund (VTIAX)
Total Bond Market Index Fund (VBTLX)
Total International Bond Index Fund (VTABX)
Intermediate-Term Investment Grade Fund (VFIDX)
Short-term Investment Grade Fund (VFSUX)
Intermediate-Term Tax-Exempt Fund (VWIUX) (for taxable accounts only)
Winner: M1 Finance
Fractional shares means that if a stock is trading for $100, you can buy a partial share of that stock for $50 or another amount. This is handy if you're a beginner investor creating a diversified portfolio.
With $100 you could buy 10 individual stocks or funds for $10 each.
M1 Finance, enables investors to trade fractional shares when trading stocks or funds.
The computerized algorithms within the Vangurd robo-advisors handle all of the trading and may buy fractional shares based upon the dollar amount you invest. Additionally, fractional shares may be purchased when dividends are reinvested.
Automatic Rebalancing
Winner: It's a tie.
Both platforms offer rebalancing, back to your preferred mix of investments.
With Vanguard, rebalancing is automated.
At M1, rebalancing occurs when you add money or sell securities. Or, you can initiate rebalancing at any time with the push of a button.
Rebalancing is the most common service available at robo-advisors and one of the best features.
Margin Account*
Winner: M1 Finance
M1 Borrow allows anyone with an account balance of at least $10,000 to borrow up to 35% of their account value. The money can be used for any purpose.
This is helpful if you need to pay for a home repair and want to allow your investments to continue compounding.
The Vanguard Investment Brokerage firm offers margin account. But, the robo-advisors don't have access to borrowing.
Cash Account
Winner: M1 Finance
M1 Finance Plus members have access to M1 Spend.
This service offers:
FDIC-insured checking account
Debit card with 1% cash back
4 fee-free ATM withdrawals per month
Bill pay
Direct deposit
Only Vanguard brokerage clients have access to cash management. Separate cash management isn't available with the robo avisory platforms.
Account Types
Winner: It's a tie.
Both Vanguard and M1 Finance robo-advisors have account types broad enough for most investors.
Vanguard
M1 Finance
Individual, Joint taxable
brokerage accounts
X
X
Traditional, Roth,
Rollover, SEP IRAs
X
X
Trusts
X
X
High yield cash
account**
X
**Vanguard brokerage offers cash managment.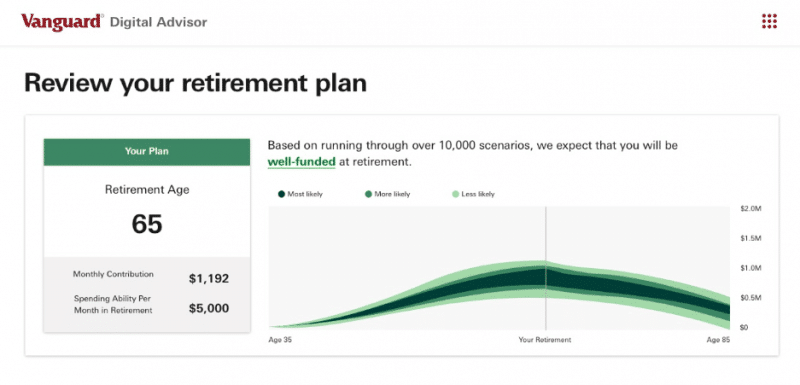 Financial Advisors
Winner: Vanguard Personal Advisor Services
This is the only option that includes live financial advice.
Although, Vanguard Digital platform clients can speak with financial services representatives, who may be able to assist with basic financial questions, although this is not "advertised" as a feature on the platform.
Vanguard Personal Advisor Services really takes the "personal" part of their name seriously. Investors collaborate with the financial advisor and get tailored investment advice and support. The real benefits kick in when an investor's AUM tips over $500,000. While all investors get access to a team of financial planners, those with AUM over $500,000 get access to a dedicated financial planner.
M1 finance offers a roll-over concierge to help with account transfers. They also offer helpful customer service representatives during normal business hours.
You'll need to look elsewhere for financial advice.
Click here for robo advisor with live financial advice.
Mobile App
Winner: M1 Finance
This was an easy contest as the Vanguard Investor app doesn't offer a specific app for the robo-advisors. Additionally, the Vanguard app reviews were low with an average of 2.4 out of 5.0 stars.
The M1 Finance app is dedicated to the platform. The 4.6 average star reviews were generally favorable, with a few issues, that seemed to be working out okay with the company.
Security
Winner: It's a tie with a slight edge to Vanguard.
M1 Finance and Vanguard each prioritize security and are insured by SIPC (Securities Investor Protection Corporation) against loss of cash and securities from a broker's failure. It does not protect against normal investment price declines.
With Vanguard, you can be sure that a large robo-advisor with the most AUM and a premier financial firm has excellent security and offers encryption, SSL validation and: and offers:
Encryption
SSL (Secure Sockets Layer) validation
Security codes
Security keys
Account activity alerts
Trusted contact
While M1 Finance security includes:
Military-grade 4096-bit encryption
Two-factor authentication
M1 Spend and M1 Plus accounts offer FDIC insurance up to $250,000 and additional insurance through Lincoln Savings Bank.
Vanguard Investing-Brokerage Account
We'd be remiss if we didn't touch on the full-service Vanguard investing options. Like, Schwab, Fidelity, and E*TRADE, Vangaurd offers full-service investment products for those that want CD, bond, mutual fund, options, stock, and etf trading.
These services are in addition to the Vanguard robo-advisor solutions.
You'll find low cost investment products and services for long-term investors and short term traders at Vanguard including:
Investor education
Calculators and research tools
Any type of account you might need including 529 Accounts and 403b services
Annuities
Margin accounts
In fact, investors seeking managed solutions and a full service brokerage firm can get all of their needs met at Vanguard.
FAQ
Does M1 Finance have Vanguard funds?
Yes. You can buy and sell Vanguard exchange traded funds (ETF). Although if you want to trade Vanguard mutual funds, you'll need to go to the Vanguard platform.
Which is better, Robinhood or M1 Finance?
M1 Finance is best for long term investors who want to trade stocks and etfs. M1 is also best for investors seeking pre-made portfolios, investment management including rebalancing.
Robinhood is best for active traders and those who want access to stocks, funds, options. and cryptocurrency.
For more information read M1 Finance vs Robinhood.
Is Vanguard or Charles Schwab better?
Regarding digital investing, we prefer Schwab's Intelligent portfolios over the Vanguard Digital offer. Each offers wealthier investors access to robo-advisors with financial advisors, which are both good.
With respect to brokerage firms, I prefer Charles Shwab over Vanguard, but they are both solid choices.
Is M1 Finance a good idea?
If you're interested in growing your wealth with investing, then we believe that M1 Finance is good platform. Just make sure to learn a bit about investment basics before diving in.
M1 Finance vs Vanguard Digital and Personal Advisor Services: Which is Best for You?
M1 Finance and Vanguard are each tailored to different audiences and offer unique features and services. Both platforms are appropriate for long term investors, not active traders.
This makes the Vanguard vs M1 Finance choice easier.
M1 Finance
M1 Finance is the affordable, easily accessible robo-advisor that is good for new investors and expert DIY-ers alike. With customization options and pre-made portfolios, M1 Finance caters to a variety of individuals. This robo also has over 6,000 investments from which to choose. M1 Spend cash management and M1 Borrow round out the offers.
We believe that the free M1 Finance platform is a good choice for most investors.
Vanguard
Both Vanguard robo advisors have higher investment minimums and fees.
The Vanguard Digital Advisor is bare-bones lacking many features of competitors. Additionally, Vanguard Digital requires $3,000 to invest and charges 0.15% AUM, in contrast with the $100 minimum and free investment management at M1.
We recommend M1 Finance for a basic platform, unless you're already a Vanguard customer.
If you're a mass affluent customer with the $50,000 minimum, there's a lot to like about the Personal Advisor Services. The financial advisor drives the process and investment options are vast. The retirement and financial planning tools are solid. In contrast with traditional financial advisors, fees are reasonable.
Vanguard Personal Advisor Services is a good choice for investors seeking full-service financial planning at a reasonable cost.
Ultimately, the only reason to pay for a robo-advisor might be to access financial advisors.
Read the Complete M1 Finance Review
Read the Complete Vanguard Digital and Personal Advisor Services Review
Visit the Robo-Advisor Selection Wizard, take a quick quiz, and find out which robo-advisor is the right one for you.
Related
M1 Finance vs Personal Capital – Robo-Advisor Comparison
Wealthfront vs Schwab Intelligent Portfolios
Betterment vs Wealthfront vs M1 Finance
*Disclosures: Please note that this article may contain affiliate links which means that – at zero cost to you – I might earn a commission if you sign up or buy through the affiliate link. That said, I never recommend anything I don't believe is valuable.
I have a brokerage account with Vanguard and an account with M1 Finance.
*Using margin involves risks: you can lose more than you deposit, you are subject to a margin call, and interest rates may change. To learn more about the risks associated with margin loans, please see our Margin Disclosure (https://s3.amazonaws.com/m1–production-agreements/documents/Margin_Disclosure.pdf). M1 Borrow available on margin accounts with a balance of at least $10,000. Does not apply to retirement accounts.