Betterment is one of the oldest robo-advisors. The Betterment Socially Responsible Investing options are ideal for those who want low fee professional investment management and three SRI investing choices. Betterment has two tiers of portfolio management: one that charges a 0.25% AUM fee per year for all digital investment management, and another that charges a 0.40% AUM fee per year and offers unlimited Certified Financial Planner access and requires a $100,000 minimum investment. Betterment shines with three three socially responsible investing options: the broad impact portfolio, the climate impact portfolio, and the social impact portfolio.
Let's take a closer look at this robo-advisor to see whether it's right for you. For a deeper dive, check out our complete Betterment Review.
[toc]
*Disclosure: Please note that this article may contain affiliate links which means that – at zero cost to you – I might earn a commission if you sign up or buy through the affiliate link.
I don't have an account with Betterment and am not being paid to write this review. See more reviews at the iOS App Store and Google Play Store
Your Betterment Account: Investment Portfolios
Once you open an account with Betterment, you'll have access to a diverse set of diversified portfolios specializing in socially responsible investing. Each portfolio is includes stock and bond ETFs spanning the U.S. and internationally. You'll invest in a portfolio that fits your risk tolerance, financial goals and time horizon. Your money is pooled with other investors, and managed by portfolio managers who buy and sell on your behalf.
Betterment aims to help you meet your financial planning goals. Your investment goals can include both financial and temporal, like saving for a home down payment in several years or retirement in decades.
Tax advantaged retirement accounts are available with Betterment's portfolios along with retirement planning tools. Betterment Premium gives you complete financial planning services, led by Certified Financial Planners. The digital customers can pay for a la carte financial planner meetings targeted on specific goals like retirement planning or an investment check up.
Betterment vs. Competitors
When investing with a robo advisor, consider the following:
Fees
Minimum investment
Features and services
Unique Selling Proposition – USP
Betterment's fees are competitive. The digital option costs 0.25% of assets managed (AUM), which is equal to the management fee of Wealthfront but higher than SoFi (0%), for example.The premium plan, costs 0.40% AUM per year and includes unlimited access to Certified Financial Planners. This is significantly lower than the 1.00+% annual fee that traditional financial advisors charge,
The minimum investment with Betterment is $0 for Betterment Digital. Should you upgrade to Betterment Premium, you'll need $100,000 in your account. This business model is two-tiered, attractive to both new investors and those with lots of capital to invest.
As for USP, which stands for "unique selling proposition," this is a company's specialization – the reason you'd go for this specific company, assuming all else is equal. Superior to many competitors, Betterment's goal-based focus enables users to segment their saving and investing into many distinct categories.
The Betterment socially responsible investment choices have gone above and beyond most competitors. From climate and gender diversity to broad impact investing, you'll find what you need. If your investment strategy includes diverting your cash from companies that bring social or environment harm to those that bring social or environmental progress, Betterment should stand out as an obvious choice.
Betterment Pros and Cons
Pros
Diverse set of portfolios options both Core and SRI options
Automated tax minimization strategies
Unlimited access to certified financial planner with the premium plan
Crypto investing available
Low-fee financial planning packages
The current Betterment cash reserve interest rate is 4.50% APY.** The rate will vary, based upon market interest rates.
Cons
Betterment Socially Responsible Investing or SRI Portfolios
The best Betterment Portfolios for socially responsible investors depend upon your values. Betterment offers well-designed low fee SRI ETFs that serve investors seeking a Broad Impact, all inclusive impact portfolio, as well as niche offers for SRI investors pursuing Social Impact and climate Impact investment foci.
Socially Responsible Investing Portfolios
Betterment's three different flavors of socially responsible investment portfolios:
Broad Impact Portfolio
Betterment's general ESG investment option. Provides exposure to all facets of social responsibility like lower carbon emissions, ethical labor management and corporate board diversity.
The Broad Impact Portfolio replaces the core portfolio funds with SRI options in these categories:
U.S. stocks
Emerging market stocks
Developed Market stocks
U.S. high quality bonds
U.S. investment grade corporate bonds
The remaining five asset classes remain the same as the Core Portfolio.
Climate Impact Portfolio
The Betterment Climate Impact portfolio overweights climate conscious investments by investing in companies that are specifically focused on improving the negative effects of climate change. Half of the stocks in this portfolio are invested in a global low-carbon stock ETF. The other half of the stocks are invested in fossil fuel reserve-free ETFs. These firms divest from companies that own fossil fuel reserves such as crude oil, natural gas and coal.
The bond portion of the Climate Impact portfolio replaces U.S. and International bond ETFs with U.S. and global green bond ETFs.
Social Impact Portfolio
If social equity and minority empowerment is close to your heart, the Betterment Social Impact Portfolio might be for you. This ESG portfolio allocates more money to companies with greater gender diversity within senior leadership and to companies with diverse workforces and policies.
The Social Impact Portfolio adds to the Broad Impact portfolio by including the NACP and SHE ETFs, which each focus on diversity.
Betterment ESG Criteria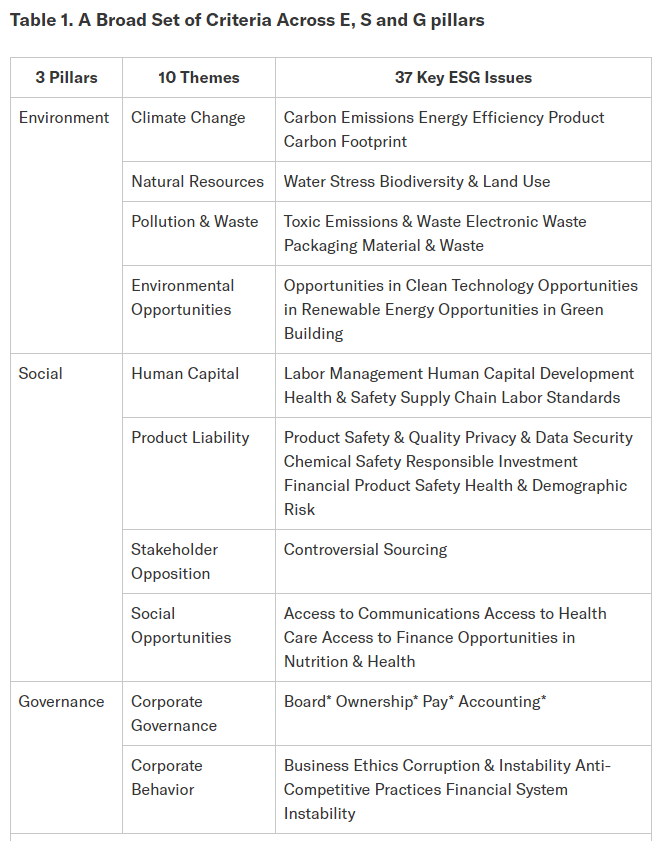 source: https://www.betterment.com/resources/socially-responsible-investing-portfolio-methodology
How to Implement Betterment's Socially Responsible Investing
Whether you're new to Betterment or creating a new goal, it's easy to enable an SRI portfolio. Add or update a goal's portfolio strategy through the "Portfolio Analysis" tab of your Betterment account. Then select the ESG portfolio for that specific goal.
More Betterment Portfolio Choices
Betterment Core Portfolio
The Betterment Core Portfolio is a diversified investment portfolio that includes access to the global financial markets. It is not specifically a sustainable portfolio but one that offers good exposure to the worldwide stock and and bond markets. Some of the major holdings in this portfolio are the Vanguard Total Stock Market ETF (VTI), iShares iBoxx Investment Grade ETF (LQD), and the Vanguard Developed Markets ETF (VEA).
For this portfolio, Betterment teamed up with Goldman Sachs. This portfolio has the goal of beating the market (just remember that past performance does not have implications for future performance). The name comes from "beta," which is a variable that measures your portfolio's volatility relative to the market. In an attempt to outperform the market, the Smart Beta option targets companies with good value, strong momentum, high quality and low volatility.
Innovative Technology Portfolio
This is a high-tech portfolio that gives you exposure to burgeoning sectors looking to reshape the future such as self-driving cars, cybersecurity, cloud computing and 3D printing. These days, tech has supplanted most other sectors as the main growth sector in the market, and Betterment has created this Innovative Technology Portfolio portfolio to meet the demand for investment in innovative and forward-looking companies.
Blackrock Target Income Portfolio
Betterment teamed up with Blackrock to create its all-bond target income portfolios. The BlackRock Target Income portfolios offer four risk-related portfolios, promising varying levels of income. These portfolios are for wealth-preservation and income. This choice is best for conservative investors and not for those looking to aggressively grow their capital.
Other Features
Sign-up offer
Betterment's promotions include free management, depending upon the amount of your initial investment. There are additional offers including referral bonuses.
Account types
All of the following account types can be opened with no initial investment.
Individual taxable accounts
Joint taxable accounts
Traditional IRA
Roth IRA
SEP IRA
Inherited IRA
Trust accounts
Automatic features
With Betterment, rebalancing, tax-loss harvesting and dividend reinvestment are automatic. You can also set up automatic transfers into your accounts.
Customer Service
Week-day phone customer service is available. Also, users can speak with the virtual chatbot 24/7. With the premium plan, you gain access to unlimited calls with human advisors.
Cash Management
Betterment checking account
You can easily use Betterment as your FDIC insured bank account replacement with checking and debit card access. The checking account doesn't charge fees, and the debit card offers cash back. ATM and foreign fees are automatically reimbursed, and there are no overdraft fees.
Betterment Cash Reserve
This high yield cash account diverts your money into partner banks. You'll receive high interest rates and up to $1 million in FDIC insurance ($2 million for joint accounts). You can allocate a cash reserve account to specific shorter term spending goals like a wedding, vacation or home down payment.
The current Betterment cash reserve interest rate is 4.50% APY.** The rate will vary, based upon market interest rates.
Tax-loss harvesting
Rarely does a robo advisor without a minimum investment offer tax-loss harvesting (TLH). In your taxable brokerage account, TLH will offset taxable gains with losses, which sill save money at tax time. This is thus one area in which Betterment stands strong.
Is Betterment Right for You?
Betterment is strong on many accounts. This robo advisor comes with zero minimum investment, a low account management fee, and lots of features, making it a top competitor in the industry. Betterment's well researched sustainable investment offers are suitable for a variety of investors.
Betterment is one of our highest regarded robo-advisors. Their attention to sustainable investment portfolios is thoughtful and comprehensive. The addition of crypto along with the Core, Smart Beta and income portfolios yield a well-rounded and low fee investment manager. Add in the cash management features including checking and high yield Cash Reserve and you can manage all of your finances under one roof.
Do it yourself investors would be happier at M1 Finance, Schwab, Fidelity or other providers with both managed and DIY investment platforms.
Compare Betterment vs Personal Capital
Features
Betterment
Empower
Overview
Goals-based digital investment manager with a variety of portfolio styles including crypto. For additional fees clients can access financial advisors.

Empower offers stellar free investment management tools. Their paid money management platform is comprehensive, and includes Certified Financial Planners for all.

Minimum Investment Amount
Digital-no minimum, $10 to invest 
Premium-$100,000 minimum
No minimum for use of free financial and investment management tools.
Empower Advisors-$100,000
Fee Structure

Digital:




$4.00 per month for accounts worth less than $20,000




0.25% AUM for accounts worth more than $20,000 or with $250 per month auto deposit.




Premium: 0.40% AUM




Crypto:




1% aum (crypto)  

Zero fees for access to free investment management tracking & recommendations.


Empower Advisors fees decline as assets increase.
$1,000,0000-$3,000,000 .89% AUM down to
0.49% AUM for accounts over $10,000,000.
Top Features
Investment management. Financial advisors for additional fee. Socially-responsible, income, smart beta and crypto portfolios. Tax-loss harvesting. High yield cash account through partner banks.

Paid feature includes access CFP advisor. Investment, financial account analysis, and recommendations, rebalancing, tax-loss harvesting, saving and spending tracker, and retirement planning. Free financial management tools for retirement, investment and cash management.

Promotions and Website
Visit Betterment 
FREE investment, saving, spending, retirement planning tools.
Related
Disclosure: Please note that this article may contain affiliate links which means that – at zero cost to you – I might earn a commission if you sign up or buy through the affiliate link. That said, I never recommend anything I don't  believe is valuable
*Betterment is not a licensed tax advisor. Tax Loss Harvesting+ (TLH+) is not suitable for all investors. Read more at https://www.betterment.com/legal/tax-loss-harvesting and consider your personal circumstances before deciding whether to utilize Betterment's TLH+ feature. Investing involves risk. Performance not guaranteed.
**Cash Reserve is only available to clients of Betterment LLC, which is not a bank, and cash transfers to program banks are conducted through the clients' brokerage accounts at Betterment Securities. For Cash Reserve ("CR"), Betterment LLC only receives compensation from our program banks; Betterment LLC and Betterment Securities do not charge fees on your CR balance. Checking accounts and the Betterment Visa Debit Card provided and issued by nbkc bank, Member FDIC. Checking made available through Betterment Financial LLC. Neither Betterment Financial LLC, nor any of their affiliates, is a bank. Betterment Financial LLC reimburses ATM fees and the Visa® 1% foreign transaction fee worldwide, everywhere Visa is accepted.